Assembly of the Inflammasome Complex
Small Molecules - High Purity, Bulk Available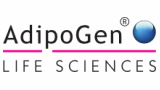 Welcome to AdipoGen Life Sciences - Distributed Exclusively in the UK by Caltag Medsystems
AdipoGen Life Sciences are a leading manufacturer of reagents for Immunometabolism & Advanced Inflammation Research.
AdipoGen develop new products for the Life Science Reagents Market in the fast growing areas of cancer, immunology, inflammation, metabolic syndrome (diabetes, obesity), stem cells and neurodegeneration.
Their major focus is on innovation and advanced ELISA kits. In addition to antibody and protein facilities, AdipoGen also owns chemical laboratories, enabling the company to develop new and innovative biochemicals. AdipoGen collaborate with many academic labs addressing these needs, through i) discovering and characterising adipokines and cytokines, secreted from fat cells and immune cells regulating glucose and fat metabolism, and ii) identifying and characterising the receptor genes of these secreted factors.
AdipoGen Life Sciences have a vast array of brochures and wallcharts. If you would like to receive copies of any of their literature, please contact us at techsupport@caltagmedsystems.co.uk. Alternatively, you can reach us by telephone on (+44) 01280 827460.
Obesity, Metabolism and Diabetes
Over the next few decades both obesity and diabetes are predicted to increase significantly worldwide. It is becoming evident that both diseases are linked to unbalanced nutrition together with closely related inflammatory processes. Obesity is a major risk factor for many metabolic diseases, especially diabetes and cardiovascular diseases, increasing the risk of hypertension, hyperglycemia and dyslipidemia. Obesity is also linked to a broad spectrum of pathological disorders including neurodegenerative diseases, airway disorders and cancer.
To facilitate improved treatment of the diseases, it is necessary to understand the cross-talk between the hormones and cytokines secreted from fat cells and immune cells, and to understand the principles of the specific binding of ligands to the receptors.
AdipoGen Life Sciences provide a wide range of products for obesity, metabolism and diabetes research, including adipokine ELISA kits, obesity-related proteins & antibodies, Fibroblast Growth Factor products, PPARƳ reagents, metabolic research modulators and much more. To view their Obesity & Diabetes Catalogue, please click here. Alternatively, please contact us if you would like to receive a copy in the post.
Immunology
AdipoGen Life Sciences are considered experts in inflammasome signalling. Inflammasomes are multi-protein complexes whose activity has been implicated in physiological and pathological inflammation. The hallmarks of inflammasome activation are the secretion of the mature forms of caspase-1 and interleukin-1β (IL-1β) from cells of the innate immune system. AdipoGen provide a large selection of research reagents targeted to the various components of the inflammasome, thanks to a long-term collaboration with the Professor Jürg Tschopp group – the team who discovered the inflammasome in 2002.
For further information about Adipogen Life Science's inflammasome products, please click here.
To view Adipogen's Immunology brochures, please click on the links below. Alternatively, please contact us if you would like to receive a copy in the post of the following brochures:
Neuroscience
AdipoGen Life Sciences offers a diverse product range for neuroscience research, covering neuroinflammation, neurodifferentiation and neuronal outgrowth.
Neuroinflammation is an innate immune response in the CNS against harmful and irritable stimuli such as pathogens, metabolic toxic waste or chronic mild stress and that occurs in response to trauma, infections and/or neurodegenerative diseases. It is mediated by protein complexes known as inflammasomes, which function as intracellular sensors for infectious agents as well as for host-derived danger signals that are associated with neurological diseases, including meningitis, stroke and Alzheimer's disease (AD).
Notch signalling inhibits neuronal differentiation in the developing central nervous system and is implicated in the maintenance of neuronal stem cells (NSCs), regulating differentiation, self-renewal, neurogenesis and gliogenesis. Recent findings suggest that Notch signalling pathway could be implicated in pathogenesis of neurodegenerative disorders. To view AdipoGen's range of Notch products, please click here.
Guidance molecules, such as Netrin-1, trigger either attraction or repulsion effects on migrating axons of neurons, interacting with the receptors Dcc or unc5 (A to D). Netrin-1 protects neurons from death during development and favours tumour epithelial cells survival in some types of cancers. It interacts with the orphan amyloid precursor protein (APP), a protein component of the amyloid plaques that are associated with Alzheimer's disease (AD). Netrin-1 also inhibits re-myelination of neurons in Multiple Sclerosis (MS) (and other progressive demyelinating diseases) by inhibiting oligodendrocyte precursor migration.
For further information about AdipoGen Life Science's Neuroscience products, please click here to view their neuroscience catalogue. If you would like any additional information, or to receive a copy of their catalogue, please contact us at techsupport@caltagmedsystems.co.uk.
Other Brands provided by AdipoGen
AdipoGen also supply Ancell, Innaxon, JaiCa, BioViotica and Chimerigen products for a number of other research areas including cancer and neurodegeneration. Please click on the links below to find out more about the following brands:
If you are having difficulty downloading product data or require further information, please contact us.