High throughput screening with Cell Cycle Analysis Kit
Human Recombinant Proteins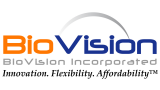 European and UK Distributor of Biovision - Apoptosis, Cancer, Metabolic, Drug Metabolism, Molecular/Cell Biology Research Proteins, Assay Kits, Antibodies and more
BioVision Inc. develops and offers a wide variety of products including assay kits, antibodies, recombinant proteins & enzymes, and other innovative research tools.
All BioVision products are available from Caltag Medsystems and can be found on our website or through BioVision's catalogue, which you can view online here. Alternatively, if you would like us to send you a copy of their catalogue please contact us at marketing@caltagmedsystems.co.uk.
Several key product areas offered by BioVision are highlighted below:
Cancer Research
BioVision have developed a strong and diverse portfolio of products for use in cancer research, including recombinant proteins, antibodies, and assay.
Please click on the links below to view their brochures online:
Angiogenesis
Angiogenesis is the process of growth and formation of new blood vessels in cancer. It is a defining factor that determines the transformation of cells from a benign to malignant state. Chemical signals from tumours regulate angiogenesis, to increase the supply of blood and oxygen to the tumour microenvironment, facilitating its aggressive progression. Pharmaceutical companies have approached this subject by investigating on the use of angiogenesis inhibitors to cure cancer.
BioVision have developed a broad range of recombinant proteins, antibodies, assay kits for these angiogenic factors, including: VEGF, PDGF, TNF-alpha, TGF-alpha and many more.
Cell-based Assays
BioVision is proud to offer an expanding selection of assays to study some fundamental processes governing cellular biology. Assays to study different aspects of cellular behaviour (progression through the cell cycle, migration, and invasion) are commonly used to monitor the health of cells in culture and their response to various stimuli. More information on the assays available can be found on our product information pages:
BioVision also offer a cellular cholesterol detection kit which enables study of cholesterol movement within the cell and this is a critical component of cellular biology since aberrant cholesterol metabolism and vesicular trafficking can lead to heart disease, obesity, Diabetes, etc.
Antibodies & Supporting Tools
BioVision's antibodies are manufactured using proprietary techniques which increase the specificity, decrease the background and are compatible with conventional protocols used in laboratories. These antibodies can be used for Western blotting and many have additional application for immunohistochemistry (IHC), immunoprecipitation (IP) and neutralisation studies.
Tag Antibodies
Epitope tagging is a powerful and versatile strategy in the labelling, isolation and detection of proteins and has applications in Western Blot, immunoprecipitation and immunostaining methods. Moreover, the small size of epitope-tags tends not to affect the protein's biochemical properties, while sometimes aiding in their recovery and solubility properties (e.g. GST). BioVision offers fifteen tag-specific antibodies eliminating the need for antibodies to proteins from each newly cloned gene.
Drug Metabolism and Disposition
The disposition of a drug or xenobiotic (any foreign chemical) within a living organism encompasses all reactions/ physiological mechanisms resulting in Absorption, Distribution, Metabolism and Excretion (ADME) of the molecule.
BioVision provide a collection of tools (biochemicals, proteins, antibodies, assay kits) to study various aspects of ADME applicable to drug design, drug metabolism/transport, drug-drug interactions, expression/regulation of expression of drug metabolising enzymes and transporters, structure-function relationship of target proteins, etc.
Exosome Research
Exosomes are small endosome derived lipid nanoparticles (50-120 nm in diameter), actively secreted by exocytosis in most living cells. Exosome release occurs either constitutively or upon induction, under both normal and pathological conditions, in a dynamic, regulated and functionally relevant manner. They have pleiotropic physiological and pathological functions and play significant roles in diverse pathological conditions such as cancer, infectious and neurodegenerative diseases.
BioVision is excited to offer a wide selection of products to facilitate exosome research. This includes high quality reagents and kits that are quick, affordable and easy to use.
Product Highlights:
Ready to use exosome quantification ELISA plates (ExoQuant™) for precise exosome quantification and multiple marker analyses in a number of pathological conditions including inflammation, cancer or neurodegeneration diseases.
Ready to use exosome FACS kits (ExoFACS™) for exosome isolation and profiling.
Easy, quick, efficient, cheap and convenient exosome isolation tools (ExoPure™) including reagents, immunobeads and immunoplates for overall or specific intact exosome isolation from small volumes of biological fluids or cell media samples.
Highly purified exosomes isolated via BioVision's isolation tools are suitable for a wide range of downstream analyses including protein or nucleic acid profiling, FACS and Nano tracking analysis (NTA).
Highly purified, lyophilised exosome standards (ExoStd™) as calibration standards for quantitation of exosome-derived markers from different biological fluids and cell lines. ExoStd™ are the best control standards for multiple applications including FACS, WB, and ELISA.
Advantage of multiple profiling of exosomal markers from a single sample or screening of a large number of samples.
Efficient exosome capture and high quality RNA extraction kits (ExoRNA™).
Efficient exosome capture and DNA purification kits (ExoDNA™).
Validated exosomal monoclonal and polyclonal antibodies (ExoAb™).
Stem Cells
There are many ways in which human stem cells can be used in research and in a clinical setting. Perhaps the most important potential application of human stem cells is the generation of cells and tissues that could be used for cell-based therapies. Stem cells offer the possibility of a renewable source of replacement cells and tissues to treat diseases including Alzheimer's diseases, spinal cord injury, stroke, burns, heart disease, diabetes, osteoarthritis, and rheumatoid arthritis.
Metabolism Assays
Metabolism plays a key role in disparate areas of physiology, cell biology, and medicine. Research in metabolism is dramatically increased by the realisation that many common human diseases such as cancer, diabetes, obesity, hypoglycemia, hypolipidemia, phenylketonuria, neurodegeneration etc. are due to perturbations in metabolic pathways. Understanding the metabolic variations and possible outliers is thus a crucial aspect of disease-oriented research.
BioVision is proud to offer a broad metabolism product portfolio ranging from carbohydrates, lipids, amino acids & proteins, inorganic ions, serum components, coenzymes & cofactors to oxidative stress, glycolysis pathway, and intermediary metabolism.
View available kits on BioVision's Metabolism Poster (pdf)
PicoProbe™ Assay Kits
In addition, BioVision offers a variety of PicoProbe™ Assay Kits for the researchers who are interested in detecting the submicromolar concentration of metabolites. PicoProbe™ is trademark of BioVision. These PicoProbe™ assay kits are the most sensitive kits on the market & can detect up to 20 pmol or even lower of metabolite depending upon the assay type.
Proteins and Enzymes
BioVision is proud to offer a wide range of native and recombinant proteins from numerous sources including plasma, bacterial cells, insect cells, mammalian cells, yeast, human cells and even animal free origin. These proteins are important tools for scientists in studying biological mechanisms and discovering cell function.
BioVision's native proteins are isolated from plasma and are tested for potential contaminants. However, due to limited availability of biological material, these proteins are available in small sizes. BioVision's recombinant proteins portfolio encompasses a very wide ranging array of products including, cytokines, growth factors, enzymes, lipoproteins, compliment proteins, etc. Most of these proteins are = 95% pure, endotoxin tested and have been validated for activity.
Some of the major categories of proteins and enzymes available include:
Fluorescent Proteins: Green / Red / Blue / Cyan / Yellow / mCherry
If you cannot find what you are looking for, feel free to contact us at office@caltagmedsystems.co.uk and we will do the hard work for you.
Biochemicals
BioVision is a leader in science and technology, providing innovative products and services for life science research and drug discovery. We offer a wide selections of quality chemicals in high purity and convenient sizes. We do not only provide chemicals listed in the catalogue, but can also supply many chemicals that are not listed here. Please contact us with your request.
EZSolution™ ready-to-use small molecules
Biovision is excited to present its extensive collection of ready-to-use small molecule stock solutions with known concentrations. These EZsolution products can be simply diluted in the aqueous buffer of choice for a wide variety of in-vitro and in-vivo applications. No more cumbersome Molarity calculations or having to weigh small amounts of often hazardous solid products. You don't even need to find the dry solvent (DMSO or Ethanol) of molecular grade purity to prepare a stock solution within the limit of solubility for a particular chemical. The EZSolution line of products offers ultimate convenience and flexibility. Some products are sterile filtered so that they can be used directly for cell/tissue culture experiments.
If you are having difficulty downloading product data or require further information, please contact us.