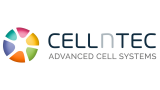 Welcome to CELLnTEC - distributed in the UK by Caltag Medsystems
CELLnTEC Advanced Cell Systems
CELLnTEC Advanced Cell Systems is a Swiss company specialising in primary epithelial in vitro cell culture. With scientists' expert in the field of epithelial adult stem cells, they have developed a range of products, which outperform existing alternatives, and take advantage of the rapidly growing demand for epithelial cell culture products.
Choose your tissue type
If you are having difficulty downloading product data or require further information, please contact us.