Drug Discovery Services
AllCells provides a range of drug discovery services using haematopoietic and immunological cells collected from healthy or diseased donors.
Their onsite collection for Bone Marrow, Whole Blood and Leukapheresis products allows direct analysis within 1 hour of cell collection.
Choose samples for analysis by blood type, gender, ethnicity and age.
Donor recruitment programmes are available plus donor recall and matched samples.
AllCells Drug Discovery Bioservices can combine multiple cell-based assays to investigate the effects of novel compounds. Both single studies and ongoing projects can be accommodated based on research demand. Consult us for our in vitro, pre-clinical expertise. Allcells have a complete repository of haematology, oncology, and autoimmune diseased cells to assist in validation of drug compounds using:
Cell Proliferation Assays
Researchers looking to track the proliferative or cytotoxic effects of compound treatment on different cell types may use assays such as CFSE intensity, DNA-exclusion dyes, and Annexin-V binding.
CFSE intensity - flow cytometric assay using a fluorescent dye that binds cell membrane, intensity correlates with number of cell divisions
DNA-exclusion dyes - cell viability based on membrane integrity
Annexin-V binding - flow based assay using a protein that is presented on the outer membrane during apoptosis
MTS/MTT/CTG - bioluminescent measurement of enzyme activity, indicating cell proliferation
Luminex (single, multiplex)
The Luminex Bead Array System allows for a high throughput, multi-target analysis of cytokines, proteins, and nucleic acids for researchers. The system is important for many clinical and research applications. The AllCells Bioservices team can provide customised applications of the Luminex system to accelerate your research.
For further information about the Drug Discovery services that AllCells can provide, or if you require a quotation, please contact office@caltagmedsystems.co.uk or call +44 (0)1280 827460.
Case study:
Request: To analyse the efficacy of lead compound in treatment of CLL diseased cells.
Solution: Treatment of CLL cells at different concentrations and time points with the lead compound. Flow cytometric analysis of apoptosis.
Results: The graph below displays the cytotoxic effect of the compound, illustrating apoptosis using Annexin-V and 7-AAD.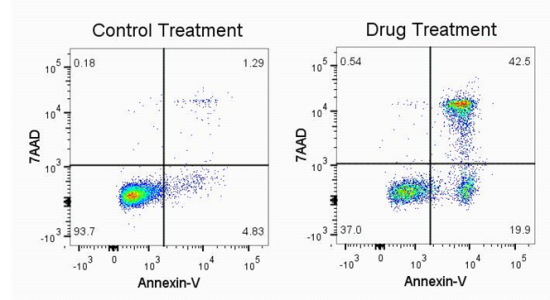 If you can't find what you're looking for - give us a call and we'll do the hard work for you.