Flow Cytometry Services
AllCells specialises in Multivariable Flow Cytometry Analysis on haematopoietic and immunological cells collected from healthy or diseased donors.
Their onsite collection for Bone Marrow, Whole Blood and Leukapheresis products allows direct analysis within 1 hour of cell collection.
Choose samples for analysis by blood type, gender, ethnicity and age.
Donor recruitment programmes are available plus donor recall and matched samples.
AllCells utilises 20+ years of flow cytometry service experience and state-of-the-art equipment to provide customized research solutions. They offer Multivariable Flow Cytometry Analysis on up to 11 colours simultaneously, using the FACSCalibur® and FACSCanto II® machines. Flow Cytometry services include:
Immunophenotyping
Immunophenotyping services can be applied to cellular characterization of both intracellular and extracellular molecules using fluorescently-labelled antibodies. These include but are not limited to MHC/HLA Typing, cancer cell analysis (focusing on haematological malignancies), and other custom analyses.
FACS Analysis
Fluorescence-activated Cell Sorting (FACS analysis) utilizes the principles of flow cytometry to identify populations of cells of interest. Cells can be electrically charged and sorted into highly purified populations. AllCells FACS flow cytometry services are capable of identifying and sorting cell populations using up to 11 colours.
DNA analysis
DNA Analysis services can provide information on the percentage of cells in each phase of the cell cycle. This output can be used in drug screening applications, inhibition, proliferation, senescence, etc.
CD34 Enumeration
Flow-cytometric enumeration of CD34+ hematopoietic stem and progenitor cells (HSCs) is widely used for evaluation of graft adequacy of peripheral blood and bone marrow stem cell grafts. The International Society of Hematotherapy and Graft Engineering (ISHAGE) have created guidelines for a gating strategy that results in replicable standards for stem and progenitor cell enumeration. AllCells Bioservices adheres to ISHAGE guidelines for characterization of leukocytes and quantification of CD34+ cells.
The Bioservices team can provide customized applications of the system to accelerate your research.
In addition to flow cytometry analysis, the Bioservices team also provide a number of other services including: immunoassays, stem cell assays, protein analysis, genotyping and tissue culture services.
For further information about the Flow Cytometry Analysis services that AllCells can provide, or if you require a quotation, please contact office@caltagmedsystems.co.uk or call +44 (0)1280 827460.
Case Study:
Extracellular LSK markers were placed on mouse bone marrow cells. LSK markers are an indication of mouse hematopoietic cells (HSCs) in the mouse bone marrow.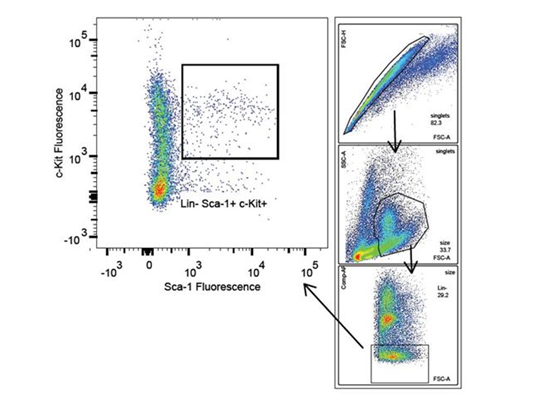 If you can't find what you're looking for - give us a call and we'll do the hard work for you.