Erythroferrone (human) ELISA Kit – The only Specific & Sensitive Assay on the Market!
Erythroferrone (also called Myonectin, CTRP15, Fam132B or ERFE) is a hormone produced by erythroblasts in the bone marrow in response to erythropoietin controlling iron storage release or is a myokine abundantly expressed in skeletal muscle tissue, upregulated by voluntary exercise. Erythroferrone/Myonectin is a potential clinical biomarker for assessing erythropoiesis in patients with blood disorders, to study iron homeostasis for cardiovascular/heart protection, and potentially for metabolic disorders.
This Erythroferrone (human) ELISA Kit (AG-45B-0014) is a Sandwich assay based on two antibodies and is to be used for the in vitro quantitative determination of human Erythroferrone in cell culture supernatants, serum and plasma. Levels of Erythroferrone measured by this ELISA kit in serum and plasma correspond to Erythroferrone protein levels measured in mouse (~ 500ng/ml).
Sensitivity: 270pg/ml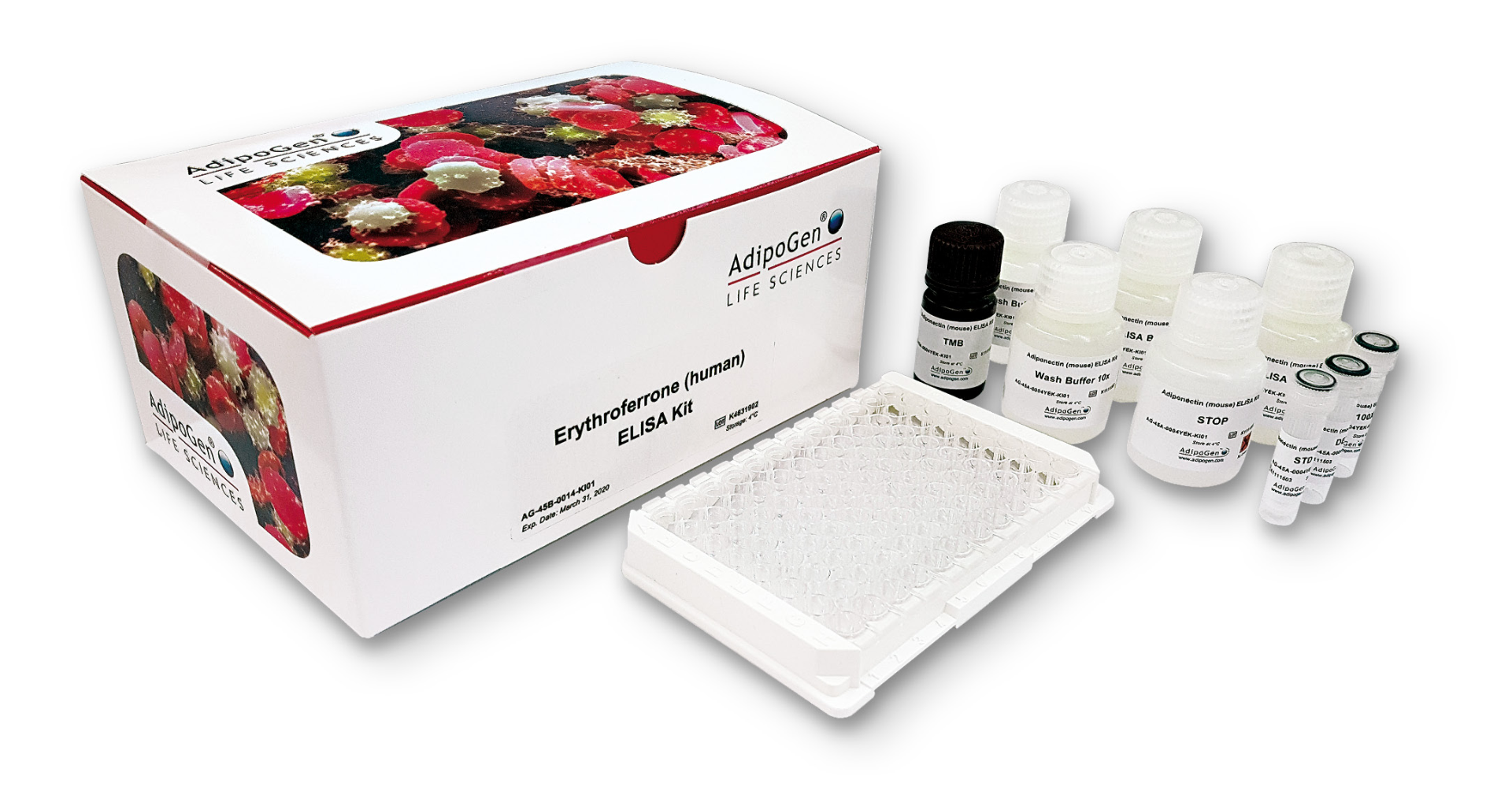 Range: 0.3125 to 20ng/ml
Samples: Plasma, Serum, Cell Culture Supernatant
FEATURES OF THIS ASSAY
√ High Specificity
√ High Sensitivity
√ High Reproducibility
√ Tested & Validated on many Samples
√ Swiss Quality Guarantee

Scientific Background
Erythroferrone (also called Myonectin, CTRP15 or Fam132B) is a member of CTRPs (C1q/TNF-related proteins), which are conserved paralogs of adiponectin containing collagen-like and globular C1q-like domains. Erythroferrone plays two different regulatory roles (see also Figure):
i) Erythroferrone (called Myonectin for this role) is a myokine abundantly expressed in skeletal muscle tissue, upregulated by voluntary exercise that is suppressed by fasting and induced by refeeding; it participates in the regulation of systemic lipid metabolism by promoting the clearance of nonesterified fatty acids (NEFA) from circulation. As a myokine, Erythroferrone/Myonectin acts as an endurance exercise-driven myokine which protects the heart from ischemic injury by reducing cardiomyocyte apoptosis and macrophage inflammatory response.
ii) Erythroferrone is produced by erythroblasts after bleeding or Erythropoietin (EPO) treatment and acts on hepatocytes to suppress expression of the hormone hepcidin. Erythroferrone inhibition of hepcidin allows ferroportin, the sole known iron exporter, to mediate the release of iron stored in gut, spleen and liver in the blood plasma. Erythroferrone functions as erythroid modulator of iron metabolism and hemoglobin synthesis.
Erythroferrone is therefore a biomarker for different types of anemia, for cardiological diseases and potentially also for metabolic diseases.
Literature References:
Myonectin (CTRP15), a novel myokine that links skeletal muscle to systemic lipid homeostasis: M.M. Seldin, et al.; J. Biol. Chem. 287, 11968 (2012)
Identification of Erythroferrone as an Erythroid Regulator of Iron Metabolism: L. Kautz, et al; Nat. Genet. 46, 678 (2014)
Is erythroferrone finally the long sought-after systemic erythroid regulator of iron? A. Lawen; World. J. Biol. Chem. 6, 78 (2015)
Myonectin Is an Exercise-Induced Myokine That Protects the Heart from IschemiaReperfusion Injury: N. Otaka, et al.; Circ. Res. 123, 1326 (2018)
Erythroferrone inhibits the induction of hepcidin by BMP6: J. Arezes, et al.; Blood 132, 1473 (2018)
Erythropoietic regulators of iron metabolism: T. Ganz; Free Radic. Biol. Med. 133, 69 (2019)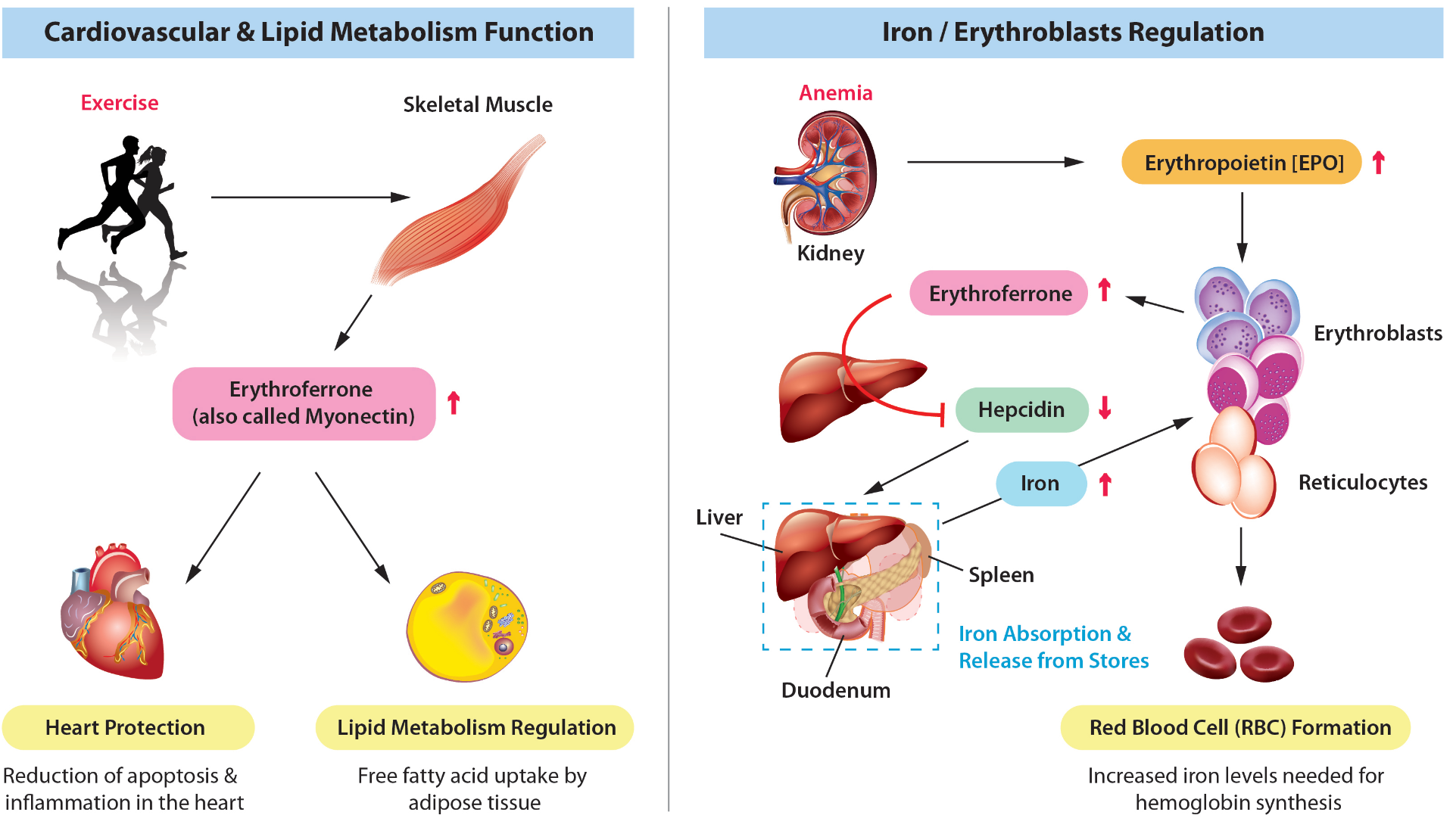 Figure: Different roles of Erythroferrone/Myonectin.
Other Iron Metabolism-Related Reagents
| Product Name Assays | PID | Specificity | Range | Samples |
| --- | --- | --- | --- | --- |
| Iron Colorimetric Assay Kit (Ferrozine Method) | JAI-CFE-005 | Fe2+ and Fe3+ | 5 - 1'000μg/dL | Cell Lysate, Plasma, Saliva, Serum, Tissue Supernatant, Urine |
| Iron Colorimetric Assay Kit (Nitroso-PSAP Method) | JAI-CFE-010 | Fe2+ and Fe3+ | 10 - 1'000μg/dL | Cell Lysate, Plasma, Saliva, Serum, Tissue Supernatant, Urine |
| Product Name Protein | PID | Source | Endotoxin | Species |
| EPO (human):Fc (human) (rec.) (non-lytic) | CHI-HF-220EPO | CHO cells | <0.06EU/μg protein | Human |
Erythroferrone – Biomarker of Iron Metabolism and Cardiovascular Protection