From the 1st of March, Caltag Medsystems are giving away packets of seeds with all UK orders, as part of our new green initiative.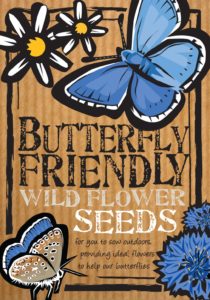 These Butterfly-Friendly Wild Flower Seeds from beefriendlyseeds.bigcartel.com will help to promote biodiversity and support bees and butterflies around your place of work or home.
To make things more interesting, we will be running a growing competition in the office, to see who has the greenest fingers, and we'd love you to join us!
The Rules
Take a "before" picture of an unloved piece of land near your work or home (or bare soil in a plant pot).
Plant your seeds, and look after them (see the seed packet for planting tips).
Take an "after" picture of your beautiful wild flowers before the competition deadline (31 July 2020).
Post both pictures on social media*, and use the hashtag #CaltagMedsystemsFlowers.
The winner will be decided by the Caltag Medsystems Green Committee, based on the biggest improvement before and after. Up for grabs is a going-green starter pack full of plastic-free reusable goodies!
*Join us on Social Media:
That's not all…
For our internal competition, all Caltag Medsystems employees who wished to participate have donated a small entry fee. The money raised will support sponsor a tree planting session later this year (more information to follow!).
Anything else?
Is there anything you've done to support local ecology at work or home? We'd love your feedback! You can contact us at GreenInitiative@caltagmedsystems.co.uk.
Join the Caltag Medsystems' Growing Competition!