We recognise that the University of Oxford has a huge impact on biomedical and clinical research. To mark this we have: exclusive offers, regular mini exhibitions throughout the University, brain teasers and monthly puzzles for you and your colleagues to enjoy. In addition, we are now launching a new competition where you can secure yourself a £20 e-voucher for Costa Coffee. Sign up to our newsletter for more information.
Also, don't forget your exclusive Oxford loyalty cards and points that are included with every order. Start collecting points now and exchange them for exciting rewards, many unique to Oxford. Just collect 2 points to qualify for a box of Millies Cookies, 3 points for lunch at the Ashmolean Restaurant, or go for the 4 points and dine at the Macdonald Randolph Hotel.
More orders = More points!
Have some points you want to spend? Redeem them by filling in the form at the back of your loyalty card and posting the card back to us at:
Caltag Medsystems Ltd,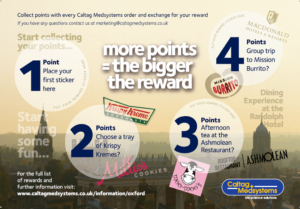 Whiteleaf Business Centre,
11 Little Balmer,
Buckingham,
MK18 1TF
We will then contact you with information regarding your reward. However only one reward can be redeemed per loyalty card.
Rewards
If you have any questions contact us at marketing@caltagmedsystems.co.uk