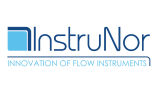 Instrunor: Introducing FlowStainer, the only completely automated, hands free sample preparation procedure for complex flow cytometry
FlowStainer by Instrunor; the world's first fully automated platform for sample preparation in flow cytometry. Flowstainer includes antibody storage and cocktail mixing, cell wash, red cell lysis and centrifugation in a bench top instrument, making it unique in the flow cytometry market today.
Caltag MedSystems have signed an exclusive agreement to sell and support FlowStainer throughout the UK and Ireland. For more information, please view the Press Release here.
FlowStainer Features and Benefits:
Fully automated walk away system for multiple protocols including antibody control
Labour saving and secured reproducibility
Up to 18 samples at a time
Sample tube cap remover
Easy to use computer interface
Automatic liquid level detection of antibodies and reagents - no running out during sample run
Pipetting robot for blood, antibodies and other reagents
Automated cocktail mixing - reduces error & all reagents/antibodies are on board
Dispenses down to 3μl
Cooling rack for 24/7 antibody storage with over 100 antibody positions
Centrifuge with 28 tube carousel and programmable speed
Buffer heater
FlowStainer Product Code: FS100
Time Saving
Workflow studies show that FlowStainer gives a 95% reduction in hands-on time compared to running the same protocol manually.
"The best thing with the FlowStainer is that you just load it and press start. You can then concentrate on other tasks while the instrument handles the complete preparation process of your samples!"
Hiep Phuc Dong, PhD, Senior Engineer, Dept. of Pathology, Oslo University Hospital, Norway.
Unique Benefits for Pathology Protocols
The FlowStainer enables you to standardise results by running individually designed sample preparation protocols, making FlowStainer the most versatile sample preparation instrument on the market. The FlowStainer is fully programmable from a one-step procedure to complex protocols. This affords an opportunity for both clinical and research labs to perfect the quality of their traditional staining protocols. The built in centrifuge makes the FlowStainer unique, offering a wash, stain and lyse for consistent reproducible results without interruption.
Hands Free System
The FlowStainer is the only instrument available with a built in centrifuge and temperature controlled reagent storage. This makes it possible to run complex staining protocols including wash, stain and lyse. When you have chosen your protocol, loaded your antibodies, samples and buffers on to the FlowStainer simply press start, leaving you free to concentrate on other tasks. When sample preparation is complete remove the sample tubes from the FlowStainer and analyse on a flow cytometer. Forget walking back and forth to the fridge, centrifuge, incubation drawer, pipetting station and centrifuge again. When you press Start, the FlowStainer takes care of itself.
Fully Automated
Accurate Flow Cytometry results are dependent on the efficacy of sample preparation. The delivery of accurate and reproducible results is a challenge for all scientists working in this growing sector. With doctors and patients demanding fast, reliable and dependable results, scientists and technicians are forced to operate under strict time constraints. Driven by the unmet demand to improve quality assurance, Instrunor have pioneered automation of the flow cytometry sample preparation process and introduce FlowStainer.
The instrument replicates manual protocols including the mixing of antibody cocktails. FlowStainer can be easily programmed to replicate and automate manual protocols giving enhanced consistency of sample preparation. Detailed reports are generated to validate the automated process.
For further information or to arrange a demonstration, please contact Tim Almond. Call +44(0)1280 827460 or email tim@caltagmedsystems.co.uk detailing your requirements.
If you are having difficulty downloading product data or require further information, please contact us.