View Our Pertussis Toxins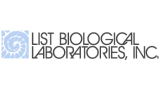 Welcome to List Biological Laboratories - distributed in the UK and Ireland by Caltag Medsystems
List Labs was founded in 1978 and is based in California, USA. They are the leading manufacturer of highly purified bacterial products for medical research and drug development, specialising in the production of bacterial products, native toxins, recombinant proteins and biotherapeutics.
Cholera toxin, the first product provided commercially by List labs, was sought after by those doing research in signal transduction and by others using the toxin B subunit to label neurons. This has since been followed by the addition of pertussis, diphtheria, tetanus and difficile toxins to the portfolio.
Toxins have been the basis for many vaccines, and List Labs products have been instrumental in supporting vaccine development. Today, List Labs remain uniquely focused on the extraction and purification of toxins from bacteria and making them available for use in a variety of clinical research applications such as vaccine development, oncology and immunology.
Products: Research Reagents
Controlled Toxins
Select Agents & Toxins
List Labs is registered with the Division of Select Agents & Toxins at the Centers for Disease Control and Prevention (CDC). This allows them to manufacture and transfer items that have been categorized as Select Agents & Toxins by the CDC and U.S. Department of Agriculture (USDA) Animal and Plant Health Inspection Service (APHIS). They comply with the Public Health Security and Bioterrorism Preparedness and Response Act of 2002 and the Select Agents & Toxins Regulations, 7 CFR Part 331, 9 CFR Part 121 and 42 CFR Part 73.
A few of their products are considered Select Agents & Toxins, which include botulinum neurotoxins and enterotoxin type B from S. aureus. To order a Select Agent for the first time, a number of additional steps are required including:
Submitting a New Customer Application.
Submitting a signed Letter of Assurance.
Submitting a purchase order on company letterhead or an official purchase order.
Once approved, you will be notified and your order will be processed.
Please note that Caltag Medsystems will guide you through this process
Larger purchases of Select Agents require permission from the CDC or APHIS. In this situation, a Form 2 is required.
These toxins are not regulated and Form 2 is not required if the amount under the control of the Principal Investigator (PI), treating physician or veterinarian, or commercial manufacturer or distributor does not exceed, at any time, the amount indicated below:
Botulinum neurotoxin (BoNT): 0.5 mg
Staphylococcal enterotoxins (subtypes A-E): 5 mg
The PI is the person designated by the institution to direct a program or project, who is responsible for the scientific and technical direction of that program or project. A signed Letter of Assurance is required to document the recipientís eligibility and legitimate need to handle or use Select Agents and Toxins.
Botulinum neurotoxins and staphylococcal enterotoxins ship on a Dangerous Goods Declaration. A specific box is utilized to ensure that the item arrives intact. List Labs completes the Dangerous Goods Declaration when preparing the package for shipment.
U.S. Export Controls
List Labs complies with the U.S. Export Controls, following the Bureau of Industry and Security and the U.S. Department of Commerce regulations (EAR), 15 CFR, part 774. These regulations require the need for an Export License when transferring items which are on the Control List (Section 1C351, Page 64). In order for List Labs to obtain the Export License, the following items are required to begin the application process.
Establish or have an established account with List Labs by submitting a New Customer Application.
Please note that Caltag Medsystems will guide you through this process
Once the above items have been received, an application for an Export License will be submitted to the U.S. Department of Commerce. The license is usually issued within four to six weeks. The license is valid for four years, so the export of multiple shipments may be included on the application.
If you require any further information about List Labs products, please do not hesitate to contact us and we will be happy to help.
If you are having difficulty downloading product data or require further information, please contact us.