News
25 of 64 items.
---
news - Oct 2019
Cytomark, a division of Caltag Medsystems, will be exhibiting at the 34th Annual Clinical Cytometry Meeting & Course, held by the International Clinical Cytometry Society (ICCS) in Atlanta, USA.

The ICCS 2019 Meeting & Course is designed for medical professionals to brush up on the latest tools and technologies available for patient sample analysis by flow cytometry.


If you are attending, say hello to James and learn more about how TransFix can assist in preserving patient samples at booth 301.

More...
---
news - Sep 2019
ESCCA 2019
Cytomark was proud to share a booth with InstruNor at the recent European society for clinical cell analysis meeting in Bergen, Norway.
The
FlowStainer
from InstruNor is a fully automated sample preparation instrument for flow cytometry, leaving more time for analysis and research for the users.
TransFix
from Cytomark is a cell-stabilisation solution, allowing users to defer flow cytometric analysis of sensitive samples.
Together, both companies are committed to helping reduce the pressure put on flow cytometry labs.
---
News - Sep 2019
Join us for 'Lunch and Learn' or Let's Break to Educate' session!
Are you a stem cell leader, a researcher, cell culture specialist or scientist interested in new exciting Cell culture technology?
We will be hosting
StemBioSys
for a series of FREE seminars on CELLvo™ technology 'the next evolution in Cell Culture' across several UK Science Parks in October. This is a first come, first served event but you can book your place by sending RSVP to
info@caltagmedsystems.co.uk
or just turn up on the day.
Brochures, goodie packs loaded with cell culture research essentials, food and drinks will be provided.
7th Oct 14:30: The Boardroom, Biocity, Nottingham
8th Oct 10:00: Mall Area, UCB Celltech, Slough (Vendors day USB Celltech Slough site employees only)
10th Oct 10:00: The Thames, Milton Park Innovation Centre, Milton, Abingdon
10th Oct 14:30: Conference Room 1, Magdalen Centre, Oxford Science Park, Oxford
11th Oct 12:00: King's Hedges Room, Babraham Research Campus, Cambridge
Click here for more information

---
News - Sep 2019
It's good to be green…
In an effort to improve our carbon footprint, Caltag Medsystems Ltd. have now formed the "CML Green Committee". Headed by Trish, the committee comprises of Helen, Camilla, James, Cara, and Nikki to represent each department of our company. Having starting with a company-wide environmental review, we are now looking for ways we can reduce the carbon footprint of our company, and support local green initiatives.
---
News - Jul 2019
Summer BBQ
The Caltag Medsystems summer BBQ was held at the start of July, in time for the good weather. It was an afternoon of good company and good food, spent relaxing in the garden. The ribs were especially tasty, with no leftovers! However there was still a queue for dessert.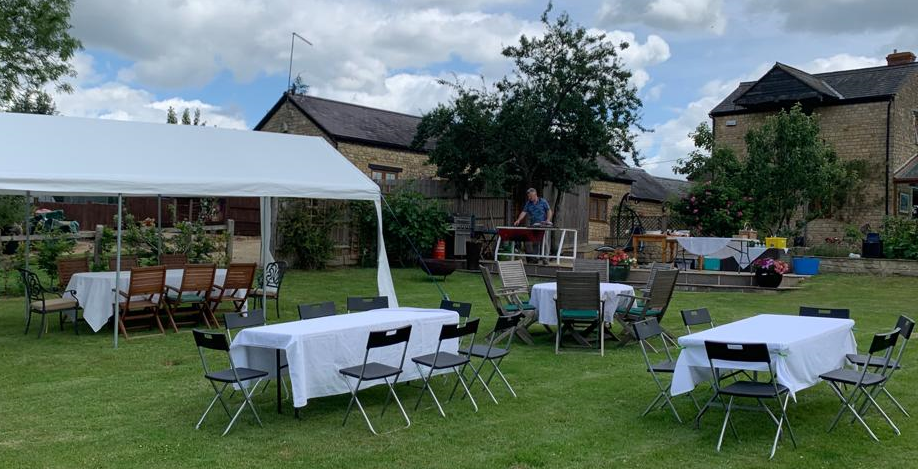 ---
News - Jul 2019
Innocent - Welcome to the Caltag Medsystems Family
We are delighted to welcome Innocent to the Caltag Medsystems family.
Innocent starts as a Product Manager with sales focus on Europe. He brings a wealth of product management experience to the company as well as achieving a Masters in Chemical Research. Welcome Innocent.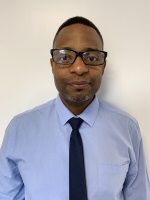 ---
news - Jun 2019
Cytomark, a division of Caltag Medsystems, will be exhibiting at the
34th Congress of the International Society for Advancement of Cytometry,
in Vancouver, Canada.
Cyto is one of the largest international flow cytometry congresses and is the world's leading event in international collaboration for the advancement of the field of cytometry.
If you are attending, say hello to Dean and James and learn more about TransFix at booth 124.
34th Congress of the International Society for Advancement of Cytometry
23th - 26th June 2019
Vancouver Convention Centre, Canada
More...
---
News - May 2019
Caltag Medsystems Beach ball Competition
To support the start of the Women's Football World Cup, Caltag Medsystems are giving away beachballs. Take your beachball on your travels around the world this summer, upload a picture of your beachball to linkedIn with #caltagmedsystems, and the most interesting/unusual locations will be entered in our prize draw. To redeem your beachball contact us at info@caltagmedsysems.co.uk.

….The journey starts now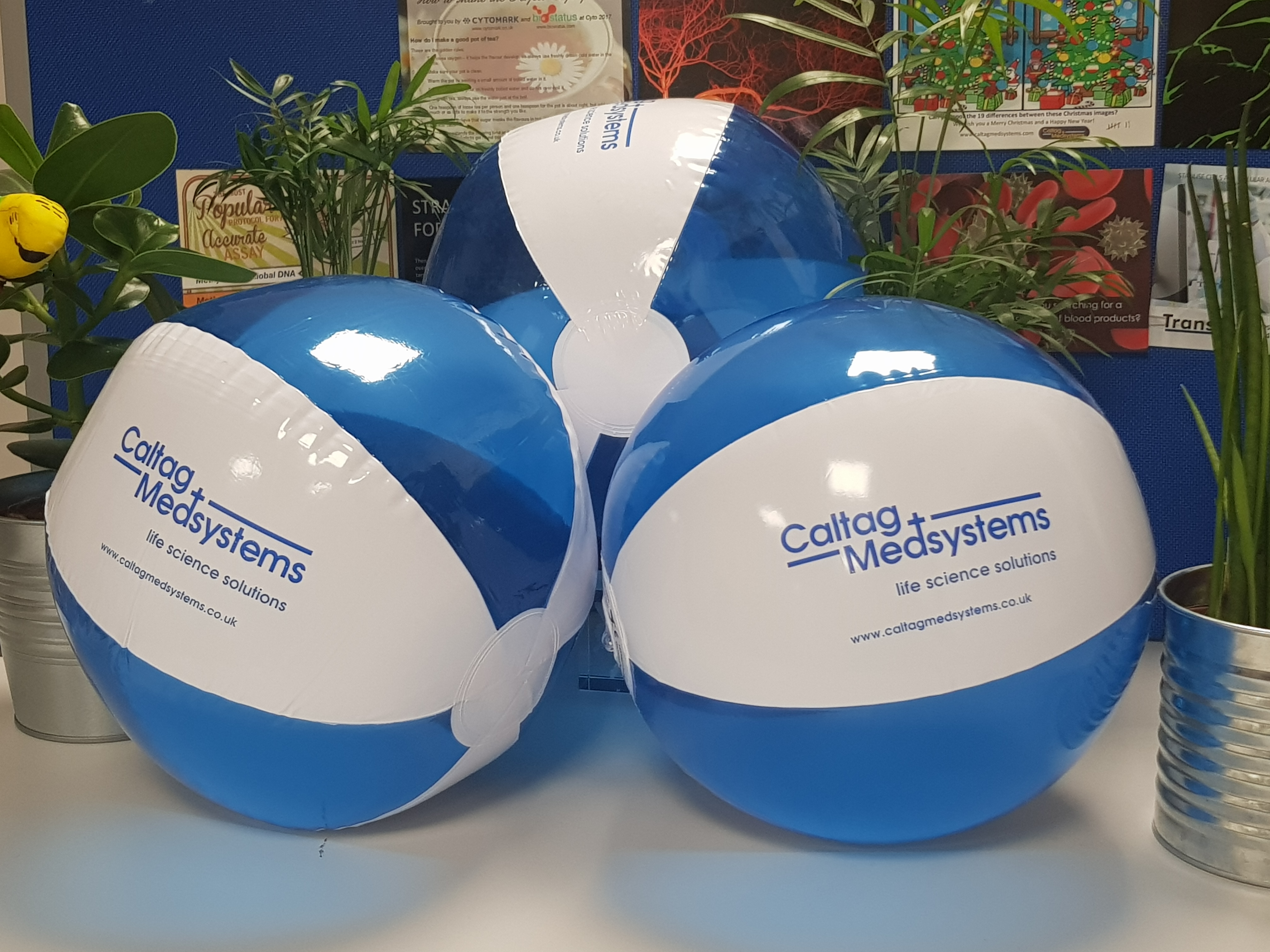 ---
News - May 2019
Afternoon Tea with the Caltag Medsystems Team
Some of the team recently enjoyed an Afternoon Tea feast after a day at work. The food was incredible and was even combined with a very hard quiz. Well done Tim Rowe and James for becoming the quiz champions!
---
News - May 2019
Marathon Challenge
Here at Caltag Medsystems, we do like a challenge and so last Monday instead of relaxing on the bank holiday, some of the team took part in the Milton Keynes Marathon Weekend.
The relay marathon runners were:
Tim Rowe (Scientist)
Hannah Hills (Sales & marketing)
Dean Coupar (MD of Cytomark)
Camilla Atkinson (Sales & Logistics)
They completed it in 4 hours 20mins
Nicki (Scientist) and her husband both ran the full marathon in PB times of 4 hours, 8 minutes - congratulations to them both.
The boss made sure everyone was re-hydrated at the end!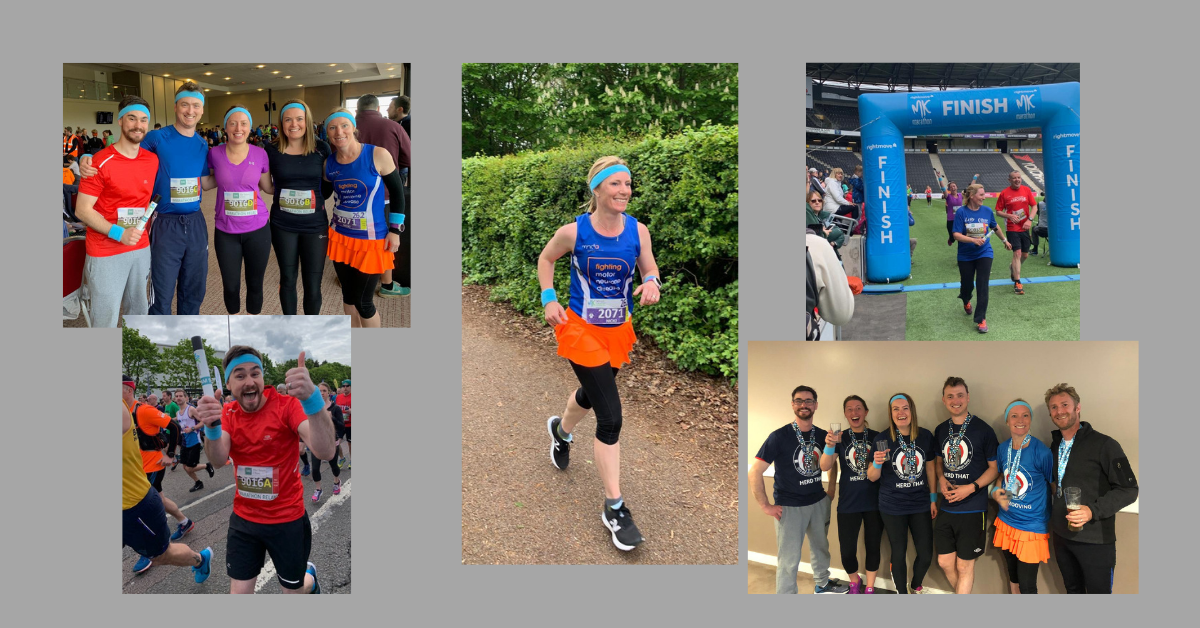 ---
News - May 2019
Caltag Medsystems is attending TERMIS 2019
TERMIS is the most prominent organisation in the field of tissue engineering and regenerative medicine globally. TERMIS promotes education, research, innovation, clinical translation and social responsibility within the field of tissue engineering and regenerative medicine through regular meetings, training courses, scientific and lay publications, outreach activities and other forms of communication. TERMIS also provides an international forum for the informed discussion of challenges and achievements of tissue engineering therapies.
We are pleased to announce that we will be attending TERMIS-EU 2019 meeting to be held from the 27th to the 31st of May 2019 at Rhodes, Greece. The theme of the meeting is 'Tissue Engineering Therapies: From concept to clinical translation and commercialisation'. The meeting is highly important to scientists, clinicians and industries interested in tissue engineering and regenerative medicine therapies that aspire to revolutionise healthcare with their reparative capacity.
Visit Hannah Hills at booth 5 to learn about products. If you'd like to book an appointment, please contact Hannah Hills at hannah@caltagmedsystems.co.uk.
---
News - May 2019
Webinar: Development of Cell-Derived Extracellular Matrices
Date & Time: May 8, 2019 (15.00 BST, 16.00 CEST)
StemBioSys® aims to catalyze progress in regenerative medicine by developing high-quality, innovative tools. Their core technology, CELLvo Matrix, is a cell-derived extracellular matrix for cell culture.
In this webinar, Dr. Travis Block will discuss the importance of cell-matrix interactions, the development of cell-derived matrices, and applications of these matrices in regenerative medicine for the treatment of age-related degenerative disease, and for cartilage repair.
About the speaker: Travis Block earned a PhD in Biomedical Engineering from UT Health San Antonio and the University of Texas at San Antonio. He serves as the Senior Scientist for StemBioSys and adjunct professor in the school of dentistry at UT Health San Antonio.
Email info@caltagmedsystems.co.uk to sign up!
---
News - Apr 2019
Nikki - Welcome to the Caltag Medsystems Family
We are delighted to welcome Nikki Hambly to the Caltag Medsystems family.
Nikki has joined our rapidly growing Sales & Marketing team as another Sales and Customer Service Support Administrator. She brings a wealth of human biology experience to the company, as well as an exemplary record in customer service support. Welcome Nikki.
---
News - Mar 2019
Join us for 'Wear a Hat Day' on Friday 29th March
Join us for Wear A Hat Day on Friday 29th March! The Premier Brain Tumour Awareness event in the UK; helping to support long-term, life-saving research.
Startlingly one in 50 people who die under the age of 60 years do so from brain cancer. Just as shockingly, 71% of those who die of a brain tumour will be under 75 years old, compared to 47% for all cancers.
Despite this, brain cancer continues to receive less than 1% of the national spend on cancer research.
Brain Tumour Research has a mission to raise £7 million a year to fund world-class, sustainable and continuous scientific research into all types of brain tumours in seven centres of excellence across the UK. These centres will work together sharing knowledge locally, nationally and internationally to find a cure for brain tumours whilst educating the next generation of leading neuro-oncologists.
Caltag Medsystems would like to help this charity raise as much money as possible. Don a hat for the day, take a photo and post it on our Facebook page (Caltag Medsystems).
We'll donate £1 towards brain tumour research for every photo posted (braintumourresearch.org).
---
News - Feb 2019
Caltag Medsystems are very pleased to announce the new relationship with Renovos.
Renovos, based in Southampton, UK, is commercialising the world-class research undertaken at the University of Southampton and draws on over 50 years of combined expertise in skeletal stem cells, translational orthopaedic research and materials for tissue repair.
Caltag Medsystems are the global distributor of Renovos Mesenchymal Stem Cells which have been isolated from patients with Osteoarthritis.
Click on "more" for further information about the products.
More...
---
News - Jan 2019
Locked Away
The team at Caltag Medsystems were challenged to test our detective skills and took part in UK's largest escape room called 'Locked In A Room'. We were divided into 3 teams at random and locked in a room faced with a non-physical, yet exhilarating, completely immersive race against the clock. Cryptic clues, tests and puzzles stretched our usual thought processes to allow us to escape within 60 minutes. We demonstrated our great teamwork and all 3 teams escaped within the required timeframe, the fastest having 1min 25secs to spare. A great evening was had by all.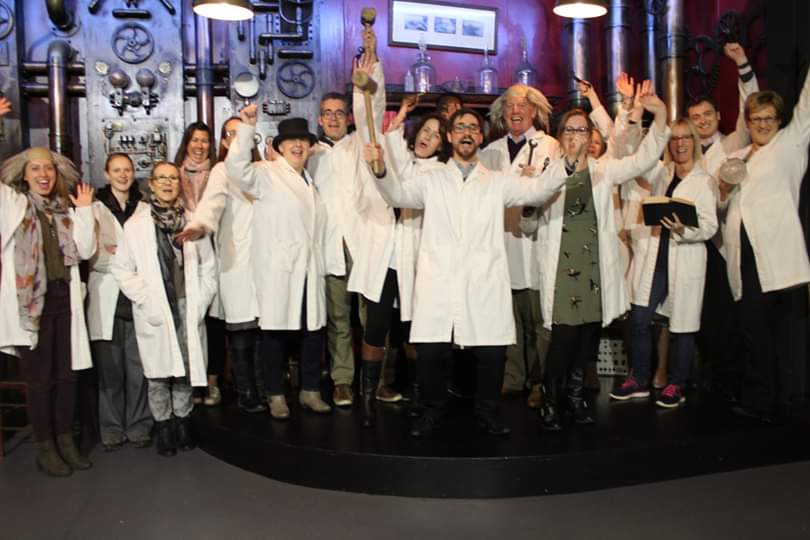 ---
News - Jan 2019
Hot Dog Eating Competition
The Caltag Medsystems team decided to have an impromptu competition to see who could eat 3 hot dogs (with the buns) in the quickest time. After 3 minutes and 10 seconds, James was declared the winner!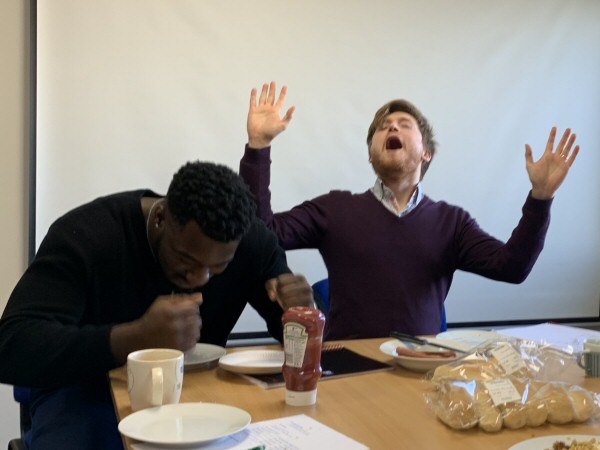 ---
News - Jan 2019
This year over Christmas, a group decision was made to forgo the office "Secret Santa", and instead donate to a local charity. We were proud to raise £300 for Young Carers Bucks. They support 6-18 year olds who care for someone in their own home who is ill, has a physical or mental disability, or drug or alcohol dependency. A truly worthy cause.
More...
---
News - Dec 2018
Christmas Opening Hours and Shipping Dates
Caltag Medsystems will be closed from 5pm (GMT) on Friday 21st December 2018 for the Christmas Holiday. We will re-open on Wednesday 2nd January 2019.
The last dispatch date for orders will be Wednesday 19th December 2018. All other orders will be shipped in the New Year.
Thank you for your custom, Merry Christmas and Happy New Year from all of us.
---
News - Nov 2018
Cell Therapy Manufacturing & Gene Therapy Congress
Caltag Medsystems will be at the Cell Therapy Manufacturing & Gene Therapy Congress. 4 - 5 December 2018, RAI, Amsterdam.
We'd be delighted to discuss the range of cell and gene therapy research products we provide. We're at booth 45, please drop by and say 'Hello'.
---
News - Nov 2018
Welcome Dean
We are delighted to welcome Dean Coupar who has joined the team as Managing Director of Cytomark, a division of Caltag Medsystems. Cytomark is dedicated to the manufacture of TransFix®, a cell stabilisation solution for flow cytometry. Dean joins the company at a very exciting time as the business has seen excellent growth in its existing products, and is also expanding with several new applications.
---
News - Oct 2018
European Society of Cell and Gene Therapy Congress - 2018
Caltag Medsystems will be attending the European Society of Gene and Cell Therapy in Laussane Switzerland 16-19 October 2018. This congress is in collaboration with the International Society of Stem Cell Research, the French Society of Gene and Cell Therapy and local organizers in Switzerland.
Visit Hannah Hills at booth 24 to learn about our cell and gene therapy products. If you'd like to book an appointment, please contact Hannah Hills at hannah@caltagmedsystems.co.uk.
---
News - Oct 2018
Caltag Medsystems is proud to be sponsoring the Buckingham Squash Team for the 2018 - 2019 season. Playing in the Buckinghamshire Squash league as part of the Men's division 3 group, the team is hoping to improve on their placing this season.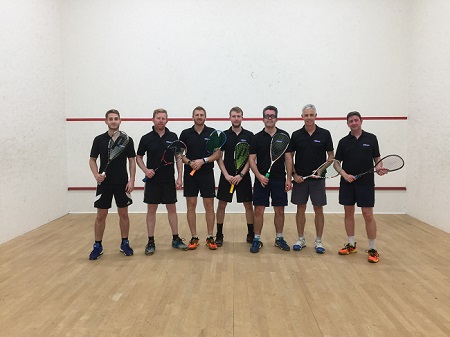 With the addition of new players and a new sponsor, it is looking promising!
More...
---
News - Sep 2018
Welcome Jennifer and Cara
We are delighted to welcome Jennifer Allen and Cara Hetherington. Jennifer joins us as senior development scientist, working with the Cellwork's science team to bring new and exciting angiogenesis related products and services to market. Cara joins us a laboratory technician, assisting in the manufacture and quality control of cell biology reagents in line with corporate and customer requirements.

---
News - Sep 2018
Congratulations Fundraiser Extraordinaire Nicki Kaenzig
Chief Scientific Officer, Nicki Kaenzig, upped the bar considerably with her fundraising activities this year.

Entering a record number of crazy running events, including 6 ultra-marathons, she raised hundreds of pounds for the Motor Neurone Disease Association. Work colleagues also helped raise money, by taking part in a sponsored doughnut eating competition.

---