CleanPlex™ OncoZoom Panel
CleanPlex™ BRCA1 & BRCA Panel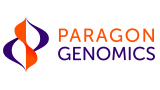 Welcome to Paragon Genomics - distributed in the UK and Ireland by Caltag Medsystems
Paragon Genomics, headquartered in South San Francisco, develops technology to improve and streamline Next-Generation Sequencing (NGS) targeted library preparation through a proprietary background removal solution.
This is key to knowing what constitutes a good targeted NGS library. Read this white paper to learn which technology should be used to make a NGS library.
CleanPlex™ technology was developed by a team of veterans, from leading institutions, who have expertise in genomic research and bioinformatics. This technology alleviates NGS workflow bottlenecks and improves accuracy and speed of sequencing by removing non-specific PCR products during multiplex reactions. This results in the generation of more relevant data, higher on-target rates and greater uniformity, not to mention money and time savings. As a result of the high specificity of library synthesis ultra-low sample input (100 pg to 10 ng) is enabled.
Paragon Genomics provides a custom panel design service offering the highest amplicon coverage in history. They provide a fast, expert custom panel design in less than 2 weeks designed by their experienced PhD level bioinformaticians and scientists. The custom service is able to multiplex up to 20,000 amplicons in a single tube.
CleanPlex™ technology provides >98% uniformity and >97% specificity which is paramount to many fast-growing NGS segments such as cancer research, liquid biopsy, biomarker discovery, personalised medicine, non-invasive prenatal testing (NIPT), companion diagnostics, immunotherapy monitoring, genomics-guided breeding, systematic and phylogenetic mapping.
Several key product areas offered by Paragon Genomics are highlighted below:
CleanPlex™ Technology
CleanPlex™ 2.5-hr Multiplex PCR Target Enrichment Workflow for Illumina NGS Platforms
Hybrid-capture versus Multiplex PCR
Multiplex PCR-based targeted sequencing requires no DNA fragmentation, no ligation or end repair, no overnight hybridization and no expensive equipment.
Target Enrichment Library Kits
CleanPlex™ Targeted Library Kit and CleanPlex™ custom panels are used together to amplify target regions of DNA using multiplex PCR for Next-Generation Sequencing (amplicon sequencing) target enrichment and library preparation on Illumina Sequencers.
Product Features:
Easy integration with liquid handlers and automation devices for high-throughput NGS labs. 2.5-hour and 3-step target enrichment workflow with only 30-minute hands-on time from purified DNA to sequencing-ready library.
Save time, labour, reagents, and the expense of capital equipment.
No DNA fragmentation, No overnight hybridisation, No microfluidic device, No ligation, No end repair anymore!
Save your precious samples. Only 100 pg of input DNA is needed for germline genotype calling and 10 ng for somatic mutation calling with an LOD of 1%.
Accurate variant calling. High uniformity and on-target rate lead to highly sensitive and specific NGS variant calls.
Highly scalable multiplex PCR accommodates your expanding panel needs. 7 - 4,000 PCR reactions per tube plus pooling strategy can meet the needs of most applications.
Enable new applications. Able to amplify difficult or high GC genomic regions such as TERT promoter (involved in many types of human cancers) - this is included the CleanPlex™ OncoZoom Cancer Panel, a 65-gene cancer hotspot panel.
Save oligo synthesis cost. No chemical modification of primers lowers your oligo synthesis costs by 4-10 fold.
Ready to Use Panels
Ready to use CleanPlex™ panels are available for BRCA1 & BRCA2, OncoZoom, and TP53. The panel kits contain primers, multiplex PCR reagent, digestion reagent and other reagent components necessary for constructing amplicon libraries for Next-Generation Sequencing on Illumina Sequencers.
Product Features:
100% coverage of BRCA1, BRCA2, and TP53 with superior uniformity
Simplified workflow - library preparation in 2.5 hours with 30 minutes hands on time
Process difficult samples with as little as 200pg of input DNA
Custom Panels
Paragon Genomics offers a Custom Panel Design Service in 3 easy steps:
Submit Design
Consultation
Design Review
Product Features:
2 weeks - Paragon Genomics provides expert custom panel design fast
20,000 amplicons in a single tube - Our team of experienced PhD level bioinformaticians and scientists work collaboratively to design robust panels
100% support - Customer care is our utmost priority. We provide from consultation to post purchase support
Contact us now to learn more about custom panels available from Paragon Genomics
If you are having difficulty downloading product data or require further information, please contact us.