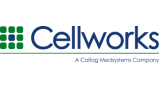 Angiogenesis Image Analysis Service - Additional Images
Product Type:
Services - Image Analysis
This service is ideal for customers who, require analysis on a small number of wells, have large numbers of angiogenesis assay images to process and require extra manpower, prefer the in-house specialists at Cellworks to analyse their images. This product code is the price to analyse each additional image after the first 24 images. Please note that there is a one off set up charge payment required, product code: ZHA-6002. If you require 24 images or under analysing, please see product code ZHA-6000.
Price (per image):
£10.00 excluding VAT