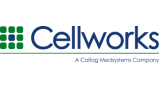 GFP Human Umbilical Vein Endothelial Cells (HUVEC) - Angiogenesis Tested, pooled donor, cryopreserved
Dry Ice:
This product requires shipping in dry ice and an additional shipping charge will be made.
These cells have been shown to produce tubules in conjunction with Cellworks Angiogenesis Tested Human Dermal Fibroblasts (ZHC-5102), using Cellworks Angiogenesis Seeding and Growth Medium (ZHA-1960 and ZHA-1970, respectively). They have been validated for use in the manufacture of Cellworks GFP V2a Kits.
Price (5x10^5 cells):
£375.00 excluding VAT