Protein Analysis Services
AllCells specialises in protein analysis to aid your research on haematopoietic and immunological cells collected from healthy or diseased donors.
Their onsite collection for Bone Marrow, Whole Blood and Leukapheresis products allows direct analysis within 1 hour of cell collection.
Choose samples for analysis by blood type, gender, ethnicity and age.
Donor recruitment programmes are available plus donor recall and matched samples.
Protein Electrophoresis
Protein Electrophoresis utilizes the differences in size and charge of proteins for separation and detection in a polyacrylamide gel. Protein electrophoresis is a highly reliable method for determining the composition and relative quantities of proteins in cell samples.
Western Blot
Western Blot for characterization of specific protein expression levels, further Western Blot analysis can be performed by transferring electrophoresis separated proteins from the polyacrylamide gel onto a membrane. Semi-quantitative analysis can be performed on protein expression levels in samples.
Immunoprecipitation
Immunoprecipitation to determine which proteins are interacting in your sample, AllCells feature immunoprecipitation services for isolation of proteins and their binding partners. In addition, AllCells Bioservices team can optimize your immunoprecipitation process.
Our Bioservices team can provide customized applications of the system to accelerate your research. In addition to protein analysis service, we also provide a number of other services including: immunoassays, stem cell assays, flow cytometry, genotyping and tissue culture services.
Case Study:
Intestinal primary myofibroblasts of mice were isolated. The cells were then analyzed using Western Blot to determine if the cells expressed NPR-C. Figure below is the output illustrating the expression of NPR-C with Actin control: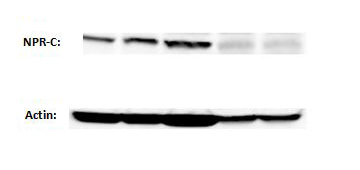 For further information about the Protein Analysis services that AllCells can provide, or if you require a quotation, please contact office@caltagmedsystems.co.uk or call +44 (0)1280 827460.
If you can't find what you're looking for - give us a call and we'll do the hard work for you.