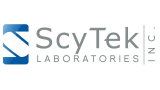 Welcome to ScyTek - Distributed in the UK, Ireland and France by Caltag Medsystems
ScyTek produce a wide range of premium quality reagents for use in a variety of applications including immunology, histology, cytology, microbiology and haematology.
ScyTek's major product lines include the following:
ELISA Reagents - Including chromogenic substrates, conjugate stabilisers, blocking buffers, diluents, and wash buffers.

Immunohistochemistry Reagents - Including the SensiTek and UltraTek detection systems as well as both monoclonal and polyclonal primary antibodies.

Histology Reagents - Including numerous special stain kits, routine stains, fixatives, mounting media, rinse buffers and staining equipment.
If you are having difficulty downloading product data or require further information, please contact us.