ZenBio
ZenBio offers research partners a unique "cells and services" model delivering robust cell-based solutions to accelerate the discovery and development of therapies to better the human condition.
Offers
ZenBio is offering 25% off cryopreserved whole blood, cord blood and bone marrow cells until the end of the year. Promo code ZB25AAI
Expanded Product Portfolio
Zenbio have expanded their product portfolio for global partners in both biomedical research and cosmetics and personal care to include: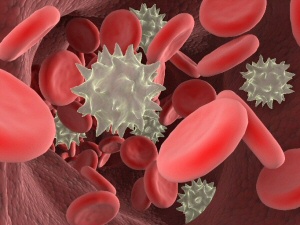 Human cell-based products, inlcuding fresh apheresis and bone marrow, isolated haematopoetic cells and human platelet lysate
ZenComplete™ and ZenSkin™ research solutions platforms
Contract research services for outsourcing key projects
Cell-based assay development and custom consultations
Individualised screening programs (cell-based or biochemical)
Cell characterisation and molecular biology services
Human Blood Products
ZenBio can provide many different Human blood components to meet your research needs. They have the abilility to collect and process per your specifications or by standard collection methods. Some of their standard products are shown below. If you do not see the specific item that you need listed here, please contact us. We will work with you to provide the materials that fit your research specifications and budget.
*All samples are collected in FDA licensed facility and pathogen tested according to FDA guidelines for the following: HBsAG, Anti-HCV, Anti-HIV-1/2, HIV-1 RNA, HBV DNA, HCV RNA, Syphilis.
Products include the following:
LeukoPaks
Mobilised LeukoPaks
Fresh Bone Marrow
Human Serum
Recovered Plasma
Source Plasma
Whole Blood
Red Blood Cells
Leukocytes (Buffy Coats)
Platelet Rich Plasma
Platelet Concentrates
Specifications possible for all products:
In preservative solutions: ACD, CPD, CPDA-1, Heparin, EDTA, PAXgene® Blood Tube
Blood group type-specific
Containing hemoglobin AA or AS
Specific MCV range
Gender, age, or ethnicity specific
Leukocyte specifications possible:
Types of leukocyte preparations available:

LeukoPaks
Mobilised LeukoPaks
Buffy coats
Isolated cells - fresh or frozen
Gender, age, or ethnicity specific
Serum specifications possible:
Types of serum available: off-clot serum
Single units or pools
Gender, age, or ethnicity specific
Plasma specifications possible:
Types of plasma available:

Heparin anticoagulant
Sodium Citrate anticoagulant
EDTA anticoagulant
ACD anticoagulant
platelet-poor
platelet-rich
Fresh Frozen Plasma
Source Plasma
Recovered/Outdated plasma

Single units or pools
Gender, age, or ethnicity specific
Platelet specifications possible:
Types of platelets available:

recovered platelet-rich plasma
platelet concentrates

Gender, age, or ethnicity specific
Packed Red Blood Cells
Sized for MCV
48-hour turnaround
Negative for HBsAg, HIV 1-2, HCV and RPR
Blood group specific
Gender, age, or ethnicity specific
Fresh and outdated
Human Serum & Animal-Free Growth Supplement
ZenBio is proud to offer several non-animal replacements for Fetal Bovine Serum (FBS): Human Platelet Lysate-(New!), GroPro ready-to-use growth supplement and Human AB Serum.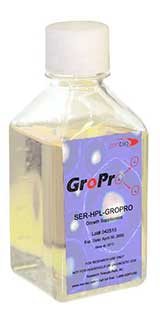 ZenBio's NEW! Human Platelet Lysate (HPL) and GroPro are a non-animal derived cell culture growth supplements obtained from human platelets. HPL contains abundant growth factors and cytokines necessary for cell growth and proliferation. Platelet lysate can be used as a replacement for traditional Fetal Bovine (FBS) supplemented cell culture medium. Replacing fetal bovine serum (FBS) with HPL allows for expansion and potential clinical grade production of functional mesenchymal stromal cells by removing the risk of xenogeneic immune reactions and transmission of bovine prion and viral pathogens. Additionally, HPL and GroPro are derived from a renewable source that is not tied to the animal slaughter industry and the price does not fluctuate!
The US FDA is moving towards adopting European guidelines requiring that bovine materials be removed from culturing media for any therapeutic product containing cultured cells, thus making HPL an attractive alternative to the R&D and production/manufacturing processes. All lots are fully tested for pathogens according to FDA guidelines.
Fetal Bovine Serum
10X more potent than FBS
Stable Pricing
Non-Animal Derived
Traceability
Free of Mycoplasma
Lot-to-Lot Consistency
Sterile Collection
Pool Processing
QC Tested in Zen Bio's Cell Production System
Human Cells
ZenBio was founded on the premise that researchers have more important work at hand that struggling with procuring tissue and isolating cells. Since their founding in 1995 they have established a robust tissue procurement network and world class cell isolation technologies in order to simplify research that requires primary cell systems. Our tissue collection and cell isolation procedures are all IRB approved and we have a rigorous quality control system that helps insure only the highest quality cells and media are shipped to our customers.
They have multiple cell systems currently in development so if you do not see a cell system that meets your needs, let us know and we will work to accommodate your request.
Currently, the following cell types are available:
Human Exosomes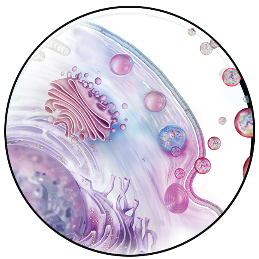 ZenBio human pre-adipocytes (adipose derived adult stem cells) and placental mesenchymal stem cells (MSC) are characterized by their self-renewing capacity and ability to differentiate into chondrocytes, adipocytes, and osteocytes. This makes them attractive starting materials for tissue engineering and regenerative medicine applications.
Since few transplanted cells persist in vivo, the beneficial effects of cell therapy may lie in the secreted factors being the active component of this treatment. A key part of paracrine secretion is Exosomes, which are membrane vesicles that are stored intracellularly in endosomal compartments and are secreted when these structures fuse with the cell plasma membrane.
Exosomes contain protein, DNA, and RNA, thus making them an attractive vector of paracrine signals delivered by stem cells.
Exosomes may also be "loaded" with predetermined proteins and nucleic acid to achieve a desired effect.
Exosomes can be stored as an "off-the-shelf" product having the potential for circumventing many of the limitations of viable cells for therapeutic applications in regenerative medicine.
In vitro, exosomes from pre-adipocytes stimulate cell proliferation in a wound healing model.
In vivo, adipose-graft derived exosomes have been shown to be a promising tool for skin repair and remodeling.
Quality Control: All cells have been screened negative for HIV-1, HIV-2, Hep-B, Hep-C and Syphilis. All isolated and concentrated exosomes undergo includes Particle mean diameter, Protein concentration, RNA concentration and Concentration of particles/ml.
Extra Cellular Matrix (ECM) Coated Cell Culture Plastics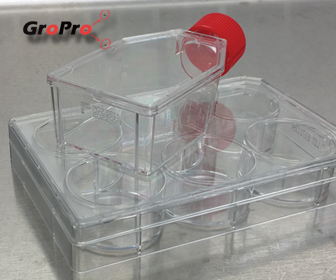 Collagen I - ZenBio is proud to offer collagen I coated Tissue Culture ware. Collagen is one of the more abundant components of the extracellular matrix proteins and the major constituent that gives strength to connective tissue and found in dermis, bone, ligament and tendons. A key role for collagens is to provide a scaffold for cell attachment differentiation, proliferation, and migration. Numerous studies have shown that anchorage dependent cells grown on collagen have increased proliferation, acquire higher cell densities, and require lower serum and growth factor concentrations. We only use high quality and purity collagen I derived from rat tail.
Ready to use right from the package
Available in multiple formats
High-quality, consistent coating of rat tail collagen I for culturing primary cells
Convenient room temperature storage
Cost Effective
Material
Flask: polystyrene
Plates: polystyrene
Cap: polyethylene
Vent: Hydrophobic
Sterile
Yes
Shipping
Room Temperature
Storage
4-30°C; Shelf life: 6 months from date of shipment
Cap
Vented
Neck
Canted
Cell Culture Media
All ZenBio media are performance tested for sterility and functionality in ZenBio cells. These media formulations are the results of years of experience in providing nutrients for optimal cell culture growth in research and manufacturing. The goal is to provide customers with consistent high-quality media at the best prices, allowing researchers the freedom and convenience to optimize their own systems, while removing one more variable from their research efforts.
Quality Control
In order to maintain consistent quality control all media are manufactured under strict compliance to written operating procedures. This provides the same quality product and reliability from lot to lot.
Formulations
Media formulations are readily available and can be ordered at anytime with very short delivery times. Media can be ordered in various formulations:
Basal (without antibiotics)
Phenol-Red Free
Without serum
Serum Free formulation (ZB Free)
Cosmeceutical Kits
ZenBio offers four research kits to test compounds for their potential use in cosmeceutical testing for antioxidant, cellulite, or wrinkle treatments. The cellulite and wrinkle assays allow scientists to target the subcutaneous fat layer to alter the outward appearance of skin. The antioxidant assays determine the total antioxidant activity of potential anti-aging treatments.
ZenBio offers two research kits to test compounds for their potential use in as cellulite or wrinkle treatments. The assays allow scientists to target the subcutaneous fat layer to alter the outward appearance of skin.
Please do contact us if you require any products which are not listed, as we may be able to provide a custom product.