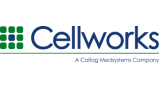 AngioSys 2.0 Image Analysis Software - Demonstration Version
Pack Size:
21 day demonstration licence
Product Type:
Services - Image Analysis
The AngioSys 2.0 software provides a semi-automated analysis of angiogenesis by measuring tubule area, length & number of tubule junctions.
AngioSys 2.0 has been developed to quantitate images of angiogenesis tubules obtained from conducting the Cellworks Angiogenesis Assay Kit: V2a kit - Vasculogenesis to Angiogenesis (Product Code ZHA-4000). Image processing methods can be saved and applied to groups of images to enable rapid analysis. The resulting data can be exported as a csv file in spreadsheet format.
This item, ZHA-5000D, is a 21 day trial software enabling the analysis of 3 wells. Please click on the download link below and follow the on-screen instructions. Please also
download the AngioSys 2.0 Image Analysis manual
.
To purchase the full licence, please see
product code ZHA-5000
.
Download Software
Related Products