Transfection method to transfect primary cells and hard to transfect cells
The ideal siRNA transfection reagent for gene silencing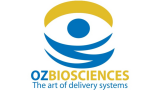 Welcome to Oz Biosciences – Distributed in the UK by Caltag Medsystems
OZ Biosciences creates, develops and produces innovative molecular delivery systems specialising in transfection and transduction tools. They focus on delivery technologies of biomolecules such as DNA, RNA and protein for in vitro and in vivo applications.
Their mission is to provide cutting-edge transfection and transduction reagents to enable life sciences researchers to achieve outstanding success. The company has established a strong position in the field of molecular delivery system with several patents and know-how for Magnetofection™, Magneto-biolisitic, magnetic-assisted transduction, Polyfection, Lipofection and 3D transfection, technologies.
OZ Biosciences has developed comprehensive lines of products:
Oz Biosciences cover the following product areas:
If you are having difficulty downloading product data or require further information, please contact us.