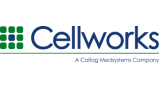 CD31 Tubule Staining Kit
Pack Size:
Sufficient reagents for 1 x 24 well plate
This kit has been designed to provide a permanent CD31 stain for tubules and has been validated for use with the Cellworks V2a Kit at the final stage of the assay. The kit contains an anti-CD31 primary antibody and an anti-IgG secondary antibody conjugated to alkaline phosphatase (AP). Also included is an insoluble chromogenic substrate (BCIP/NBT). This kit is recommended for staining tubules prior to using the AngioSys Image Analysis Software (ZHA-1800).
Price (Sufficient reagents for 1 x 24 well plate):
£65.00 excluding VAT
Related Products