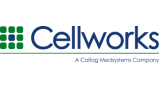 AngioSys 2.0 Image Analysis Software
Product Type:
Software - Image Analysis
The AngioSys 2.0 software provides a semi-automated analysis of angiogenesis by measuring tubule area, length & number of tubule junctions.
AngioSys 2.0 has been developed to quantitate images of angiogenesis tubules obtained from conducting the Cellworks Angiogenesis Assay Kit: V2a kit - Vasculogenesis to Angiogenesis (Product Code ZHA-4000). Image processing methods can be saved and applied to groups of images to enable rapid analysis. The resulting data can be exported as a csv file in spreadsheet format.
To purchase the full licence of AngioSys 2.0, please submit your order to
office@caltagmedsystems.co.uk
or by fax, + 44 (0)1280 827466. On receipt of an order, details for downloading the software will be provided.
Please also
download the AngioSys 2.0 Image Analysis manual
.
Download Software
Price (Full Licence):
£350.00 excluding VAT
Related Products