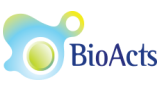 AngioFlamma 581
Product Code:
BCT-ARW1415
Dry Ice:
This product requires shipping in dry ice and an additional shipping charge will be made.
Product Type:
Fluorescent Dyes
Description:
Appearance: Red powder.
Integrin is a heterodimeric cell-surface receptor and combined with RGD (arginine-glycine-aspartate) sequence exposed to outside to mediate adhesion and fixation between cells and matrix of outside of cells. In addition, while integrin involved in cell signaling and gene expression related to growth, movement, and survival of cells, integrin is also used as a marker for disease research as its abnormal regulation links to blood coagulation, inflammatory response and cancer expression.AngioFlamma?581 of BioActs is a fluorescent targeted probe that is applied with fluorescence technique of Flamma?581 based on ?RGD peptide, and it is used as a probe for in vivo detection of inflammatory response, tumor and angiogenesis. Excitation???Emission (nm):?581 / 596 nm.
Stable for at least 1 year after receipt when stored at -20'C.
Product code:
BCT-ARW1415-MC05
Price (0.5 mg):
£119.00
Product code:
BCT-ARW1415-M001
Price (1 mg):
£217.00
Product code:
BCT-ARW1415-M005
Price (5 mg):
£732.00
Prices exclude any Taxes / VAT and Delivery Costs