ScreenCell
ScreenCell® is currently the only system, which:
is completely independent of any equipment
is designed for standardised IVD assays and platforms
allows you to filter in only 3 minutes
allows the filtering of fixed as well as live cells
if needed, allows the analysis of residual fluid
is not depending on EpCAM
How can ScreenCell devices help you?
ScreenCell® is a simple and innovative non-invasive technology for isolating Circulating Rare Cells (CRCs) from whole blood, and potentially any atypical cell in biological fluids.
By providing an easy access to fixed or live Circulating Tumour Cells (CTCs) and Circulating Tumour Microemboli (CTMs), the ScreenCell devices allow a full range access to phenotypical, genotypical, and functional characterization of these cells.
ScreenCell devices can also be used to isolate Circulating Foetal Cells (CFCs) in maternal peripheral blood for developing a new non-invasive approach to prenatal diagnosis and potentially leading to a significantly facilitated and cost-effective process for prenatal diagnosis of genetic diseases.
ScreenCell was founded with the objective of designing and producing a simple but revolutionary technology allowing the fast and effective isolating of Rare Circulating Cells yielding free of any bias CTC/CFC population amenable to better cellular and molecular characterization important in cancer monitoring. This technology also contributes to the development of a new non-invasive approach to prenatal diagnosis. ScreenCell designed a full range of devices compatible with existing In vitro Diagnostics (IVD) assays and platforms, with no need for any interface development.
ScreenCell is dedicated to creating technologies allowing CTCs to become potential end points in future oncology therapeutic arsenals, by filtering out healthy live tumour cells, thus enabling the technology to be available for three different applications: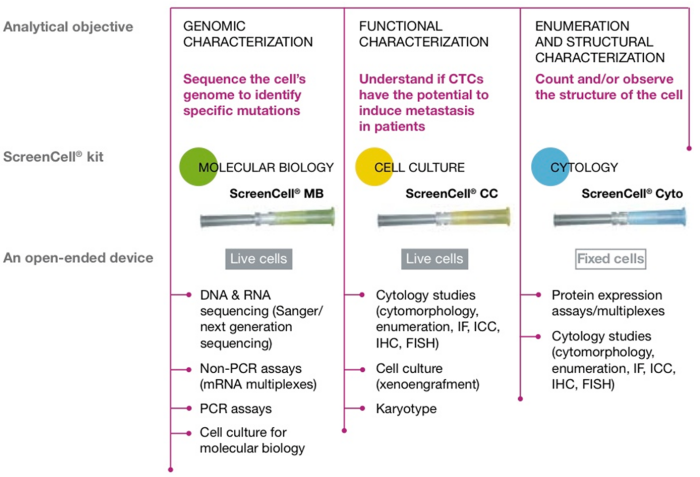 Molecular Biology
ScreenCell® MB kit is used for molecular biology studies. Each kit contains a set of single use DNAse- and RNAse-free filtration devices individually packed, together with a specific buffer; a collection tube is also included. ScreenCell® MB kits are available for isolating circulating rare cells alive through filtration devices. The ScreenCell MB filtration unit allows either DNA or RNA extraction directly from cells isolated on the filter before or after cell culture (the cupule-filter containing the cultured cells is then transferred with a nuclease-free forceps into a nuclease-free Eppendorf® tube.
Product Code: MB 3LC
Cell Culture
The ScreenCell® MB device (product code MB 3LC) can also be used to cultivate CTCs. After filtration, the capsule can be placed on a 24-well cell culture plate then covered with Matrigel for 2D or 3D cell culture. Molecular biology analysis can then also be performed on cultured cells after a cell lysis step.
Alternatively, CTCs can be detached from the from the membrane of the LCD kit (live cell detachment kit, product code LCD 2LC) to suspend CTCs for cell culture applications.
Enumeration and Cytomorphology Evaluation
ScreenCell® CY kit is used for cellular biology studies.
It comprises of a set of single use filtration devices, individually packed, for the isolation of circulating rare cells. A specific buffer and a collection tube is also included.
Before filtration, 3 ml blood samples must be diluted in 4 ml of the ScreenCell® FC filtration buffer for fixed cells. An additional 1.6 ml of 1X PBS is filtered for removing debris from the filter.
At the end of filtration, the nozzle/holder of the ScreenCell® CY device is unclipped and removed from the filtration module. The filter is then released onto a standard microscopy glass slide by pushing down a rod located at the bottom part of the filtration device. Cytological studies such as staining, cell enumeration, immunocytochemistry, FISH assays, etc can be conducted directly on the filter, the filtration area being delimited by a more rigid O ring.
Product Code: CY 4FC
ScreenCell® have developed a vast number of validated protocols. Please contact us advising the application that you require the CTC and we can send you the relevant protocols.
Collaborations with the Dana-Farber Cancer Institute and Massachusetts General Hospital, in the USA, Hopital Saint-Louis, Hopital Antoine-Beclere, Hopital Necker and Hopital de Poissy in France, and others have proven that today ScreenCell devices are best and most user friendly CTC/CFC isolation devices available.
Caltag Medsystems are the exclusive UK distributor for ScreenCell products. For further information please call +44 (0)1280 827460 or email office@caltagmedsystems.co.uk.