Phos binding reagent acrylamide - separation of phosphorylated proteins
S63845 - a small molecule inhibitor for MCL1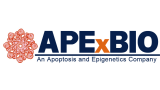 Welcome to ApexBio - Distributed in the UK and Across Europe by Caltag Medsystems
ApexBio are a global provider of small molecule inhibitors, agonists, antagonists and screening libraries. They offer over 200 exclusive small molecule compounds along with 5000+ validated and potent bioactive compounds. ApexBio independently synthesise unique and complicated compounds which target a wide range of signalling pathways.
Find the different product categories below:
All products are made to the highest quality and are accompanied with certificates of analysis, HPLC, Mass Spectrum, and HMNR data. ApexBio also provide custom services including peptide synthesis, antibody production and assay development.
If you would like more information regarding custom orders or any of the products produced by ApexBio please contact us at techsupport@caltagmedsystems.co.uk. Alternatively, you can reach us by telephone on (+44) 01280 827460.
If you are having difficulty downloading product data or require further information, please contact us.