Measure global DNA methylation or hydroxymethylation in 2 hours
Complete Solutions for Histone Modification Studies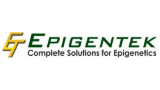 Welcome to Epigentek - distributed in the UK by Caltag Medsystems
Epigentek Group Inc. is the leading developer and provider of innovative technologies and products for epigenetic-related research. These unique products are specifically designed to make assays much simpler, faster, more convenient, and highly efficient than currently used methods. The Epigentek product range can be divided into the following categories:
Click here to view the whole product range
If you are having difficulty downloading product data or require further information, please contact us.
Sample Preparation Research Kits
Epigentek's sample preparation products place particular emphasis on the following features: (a) rapid isolation of high quality, ready-to-use DNA, protein, or chromatin samples; (b) efficient yield from trace samples; (c) high flexibility in starting materials; (d) compatibility with various downstream assays or analysis techniques; and (e) specific optimization for use with Epigentek's assay products.
Next Generation Sequencing Research Kits
Next generation sequencing technologies have increased data output volumes and lowered the cost of DNA sequencing beyond what is possible with standard dye-terminator methods. Epigentek offers many inexpensive solutions for next-generation sequencing including full package kits to conveniently construct high quality DNA libraries from low quantity or difficult samples.
Click here to see the related Kits
DNA methylation was the first epigenetic mark to be discovered, involving the addition of a methyl group to the 5 position of cytosine by DNA methyltransferases, and can be inherited through cell division.
DNA Bisulfite Conversion
Methylated DNA Immunoprecipitation
Methylated DNA Amplification
As a post-translational modification, RNA methylation plays a significant role as an epigenetic mechanism. N6-methyladenosine (m6A) is the most common and abundant methylation modification in RNA molecules present in eukaryotes. 5-methylcytosine (5-mC) also commonly occurs in various RNA molecules. Recent data strongly suggest that m6A and 5-mC RNA methylation affects the regulation of various biological processes such as RNA stability and mRNA translation, and that abnormal RNA methylation contributes to etiology of human diseases.
By using tools such as chromatin immunoprecipitation, it is possible to gain further insight into the dynamic interactions between transcription proteins and components of chromatin, and to ultimately understand their roles in cellular functions such as gene transcription and epigenetic silencing.
General Chromatin Immunoprecipitation
In Vitro Protein-DNA Interaction
Methyl-Histone Chromatin IP
Acetyl-Histone Chromatin IP
Methyl-DNA Binding Protein ChIP
Chromatin Analysis
Histone methylation causes transcription repression or activation, depending on the target sites. Measurement of histone methyltrasferase activity and quantification of histone methylation patterns have become pivotal in studying epigenetic regulation of genes, as well as inhibitor discovery.
Histone Methyltransferase Assay
Histone Demethylase Assay
Histone Methylation Quantification
Histone acetylation and histone deacetylation involve the addition or removal of an acetyl group on lysine residues in the N-terminal tail and on the surface of the nucelosome core of histone proteins. Acetylated and deacetylated histones are considered epigenetic tags within chromatin by relaxing (euchromatin) or tightening (heterochromatin) chromatin structure, subsequently increasing or decreasing gene transcription levels.
Histone Acetyltransferase (HAT) Assay
Histone Deacetylase (HDAC) Assay
Histone Acetylation Quantification
DNA Damage & Repair Research Kits
Direct DNA damage can occur due to a number of factors including oxidative stress, cellular exposure to genotoxic agents, and exposure to cytotoxic agents. Measurement of DNA damage will help to further understand the mechanisms which lead to unregulated cell division or apoptosis, traits that are prominent in diseases such as cancer and Alzheimer's.
Click here to see the related Kits
Gene Expression & Silencing Research Kits
Targeted gene knockdown using small interfering RNA (siRNA) or antisense oligonucleotides has been valuable technology in studying gene function. Gene knockdown leads to the reduction of messenger RNA and subsequently decreased protein expression.
Click here to see the related Kits
Sumoylation Sample Kits
Small Ubiquitin-like Modifier (SUMO) proteins are attached to and detached from other proteins in cells to alter their function. The detection of in vivo protein SUMOylation (SUMO conjugation) would provide useful information for understanding the SUMO modification that emerges as an important control mechanism for regulating the activity of many nuclear proteins.
Click here to see the related Kits
Histone phosphorylation has been shown to be involved in a variety of processes such as transcription, DNA repair, apoptosis, and chromosome condensation. Phosphorylation of serine 10 and 28 in histone H3 correlates with gene activation in mammalian cells, and subsequently causes an increase in HAT activity, resulting in transcriptional activation in genes.
Histone Phosphorylation Assay
To enhance your epigenetic research, Epigentek also provides a variety of antibodies specific against epigenetic modification-related proteins.
DNA Methylation Antibodies
Chromatin & Transcription Antibodies
Histone Methylation Antibodies
Histone Acetylation Antibodies
Phosphorylation Antibodies
Ubiquitination & Sumoylation Antibodies
DNA Damage & Repair Antibodies
RNAi & Gene Silencing Antibodies
Cell Cycle & Apoptosis Antibodies
Other Antibodies
DNA Methylation/Demethylation Proteins
Modified Histone Proteins
Unmodified Histone Proteins
Methylated DNA Binding Proteins
ADP Ribose Proteins
Chromatin Binding/Transcription Proteins
DNA Damage & Repair Proteins
To enhance your epigenetic research, Epigentek also provides a variety of histone peptides.
Histone Methylation Peptides
Histone Acetylation Peptides
Histone Phosphorylation Peptides
DNA Extracts
To enhance your epigenetic research, Epigentek also provides a variety of DNA extracts.
Click here to see the related products
DNA Methylation
Histone Acetylation
Histone Deacetylation
Histone Demethylation
Histone Methylation
Histone Phosphorylation
PCR Enzymes, Master Mixes, & Reagents High quality DNA polymerases, master mixes, ladders, and PCR essentials.
Electrophoresis Reagents Molecular weight markers, stains, and dyes for accurate DNA analysis in agarose gels.
Other Reagents Various solutions and reagents for nucleic-acid and protein related research.
Sonication Devices
Ultrasonic energy processing of DNA or chromatin samples is widely accepted as a better alternative than enzymatic digestion methods. By emphasizing high throughput processing and preventing sample contamination in our sonication technologies, our sonicators can be easily integrated into existing lab workflows and is also particularly suitable for compatibility with next generation applications.
Magnets & Sample Mixers
The EpiMag HT (96-Well) Magnetic Separator is a magnetic stand (magnetic rack) that allows paramagnetic bead precipitation of liquid samples from various flat-bottom or U-bottom 96-well microplates. It can be used for isolation and purification of nucleic acids and proteins, immunoprecipitation, immunoassays (ELISA), cell sorting, and purification of biomolecules. A PCR adapter is also included for the option of using V-bottom semi-skirted/unskirted PCR microplates. This product has the following features and advantages:
Ultra-Powerful NdFeB Magnets - High-grade neodymium iron boron rods allow for extremely fast separation times and minimal bead loss.
Efficient Particle Washing - Vertical orientation of the magnetic field attracts and suspends magnetic particles to both the side as well as upwards from the bottom of the wells. Pipette tips can be inserted to the bottom of the well, ensuring thorough and efficient washing and removal of fluids.
Maximum Sample Concentration - Samples can be efficiently recovered from 10 Ál to 2 ml of liquid.
Flexible Compatibility - Suitable for most magnetic beads or particles including magnetic iron oxide nanoparticles and magnetic agarose beads (e.g., EpiNext beads, AMPure XP, Axygen, etc). Compatible with all microtiter plates, including standard 96-well plates (0.25 to 0.3 ml wells) and deep well plates (1 to 2 ml) with U-bottom and flat-bottom well shapes. The included adapter also allows for use with various semi-skirted and unskirted PCR microplates (including V-bottom).
Lightweight Handheld Design - Allows for easy repeated handling.
If you are having difficulty downloading product data or require further information, please contact us.