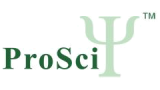 Welcome to ProSci - Distributed in the UK & Europe by Caltag Medsystems
ProSci Incorporated, a privately held biotech firm located in San Diego, California, offers a broad catalogue of over 30,000 research antibodies and over 20,000 completed Custom Antibody projects.
Their in-house labs and animal facilities (USDA licensed and NIH/OLAW approved) provide an extensive array of antibody services, with a focus on providing the highest quality of monoclonal, polyclonal, and single domain antibody services in the industry.
ProSci's expertise in antibody production, immunochemistry services, and biological research is realized through customizable services, innovative products, competitive pricing, high-quality research tools, and unparalleled technical support.
Established in 1998, ProSci is a reliable partner with over 20 years of serving the research community globally.
ProSci Products
ProSci specializes in the production of affinity-purified peptide-specific antibodies to novel antigens in fields such as HIV, Apoptosis, Signal Transduction, Neurobiology, Autophagy and Immunology. Please navigate through the filters under Products on the left-hand side column of this page to find ProSci products categorised by research area.
All ProSci polyclonal antibodies are affinity-purified, which allows for the isolation of antibodies specific to the epitope of interest. As a result, their polyclonal antibodies have the same specificity as monoclonal antibodies at a competitive price.
HIV research Antibodies
Their innovative approach to HIV research, using genetically engineered yeast strain and glycoproteins to mimic the HIV-1 glycan coat and to develop neutralizing antibodies against HIV-1 glycans has been awarded several Small Business Innovative Research (SBIR) grants by NIH. For all HIV-related antibodies please visit this page.
SARS-CoV-2 Antibodies
Furthermore, ProSci Incorporated is a leading contributor to the scientific research of SARS-Cov-2 by having antibody reagents available from the start of the pandemic outbreak. The use of the ProSci Spike Antibody (Cat. No. PSI-3525) has been cited in numerous publications in 2020 and 2021. Of great interest now, ProSci offers antibodies and recombinant proteins representing the full SARS-CoV-2 proteome, and host factors, including the availability of antibodies specific to emerging SARS-CoV-2 varients. To see all COVID-19 related products by ProSci, please go here.
Single Domain Antibodies
ProSci's Single Domain Antibodies products and services are highly valuable in fundamental research, diagnostic, and therapeutic applications. Single Domain Antibodies (sdAbs) from the camelid family are exciting and relatively new tools for researchers. These antibodies, also known as VHH antibodies or nanobodies, are isolated from camelid heavy chain only antibodies and are comprised of only the variable domain. As such, they lack light chains, are smaller and more stable compared to conventional antibodies, yet possess fully functional antigen-binding capability. Due to their size (approximately 15 kDa) and their longer CDR3 region, a single domain antibody is adept at reaching otherwise inaccessible epitopes that may play a crucial role in the molecular mechanisms of disease. To see the single domain antibody available please visit this page.
In addition, ProSci offers a complete assortment of cell lysates, tissue lysates, peptides and recombinant proteins to complement the use of these antibodies.
To find the products offered by ProSci for different research areas please see:
Autophagy, Cancer, Cell Cycle, Chemokines and Cytokines, Homeostasis, Immunology, Infectious Disease, Membrane, Neurobiology, Obesity, Phospho-specific, RNA Binding, Signal Transduction, Stem Cell, Transcription.
ProSci Custom Antibody Services
High quality technical assistance, competitive pricing, and highly customizable projects qualify ProSci staff as experts in Custom Antibody development and production.
The value and convenience of ProSci's custom antibody production services are further advanced with a complete spectrum of available immunochemistry services. These include but are not limited to antigen design assistance, antibody characterization, peptide synthesis, protein conjugation, and Immunohistochemistry. Caltag Medsystems is here with you every step of the way to support your custom antibody project with ProSci.
To learn more about these services, please visit their FAQ page.
ProSci custom antibody services include:
ProSci Support
For further supporting ProSci information please visit prosci-inc.com
Or, view the following links:
If you are having difficulty downloading product data or require further information, please contact us.