QuickSwitch™ - Quickly Create Custom MCH Tetramers
Scientific Poster - Reducing background in MHC tetramer assays
MHC Tetramers
The ONLY method to directly measure antigen-specific T cells: MHC Tetramers
MBL International has a wide portfolio of immune monitoring research products including tetramer technology for vaccine development, rapid T-cell detection and quantification for the pharmaceutical industry or bioresearch industry.
MHC Tetramers provide you with the means to rapidly detect and enumerate antigen specific T cells directly from ex vivo (patient donor) samples without the need for cell stimulation. MBL's broad MHC Tetramer product portfolio utilises proprietary technology licensed from Beckman Coulter.
MHC Tetramers are complexes of four Major Histocompatibility Complex (MHC) monomers, each of them associated with a specific peptide. The monomers are biotinylated and held together using fluorescently labelled streptavidin.
Phycoerythrin (PE), allophycocyanin (APC), or Brilliant Violet™ 421 (BV421) fluorochromes are available for detection of antigen-specific T cells by flow cytometry or fluorescence microscopy using MBL's MHC Multimers.
Class I and Class II MHC Tetramers
There are two types of tetramers, Class I and Class II. CD8+ T cells, also called cytotoxic T lymphocytes (CTLs), recognize complexes of MHC class I molecules and peptide. CTLs directly kill target cells including virus-infected and cancer cells. CD4+ T cells, which include helper and regulatory T cells, recognize complexes of MHC class II molecules and peptide. Hence, MHC Class I Tetramers are capable of detecting CD8+ T cells and MHC, while Class II Tetramers are capable of detecting CD4+ T cells.
There is also the option to have a custom tetramer manufactured, containing the peptide sequence appropriate for your research. MBL provides the following custom services:
Custom Tetramers for Novel Applications
Custom Specificity Development
Custom Allele Development
Novel Immune Monitoring and Screening Solutions
Superior Quality and Specificity with MBLI's MHC Tetramers and Monomers
MHC tetramer technology utilises the MHC/peptide complex to detect antigen specific T cells at the single-cell level, thus surpassing detection limits of traditional cell-based methods. MHC Tetramer technology is the most accurate method for detection of rare events. The information MHC tetramers provide is pivotal to the direct development of vaccines and therapies, as well as monitoring patient responses during clinical trials. To greatly reduce non-specific binding, Class I iTAg MHC Tetramers specific to human alleles have a patented mutation in the α3 domain (see figure 1 below).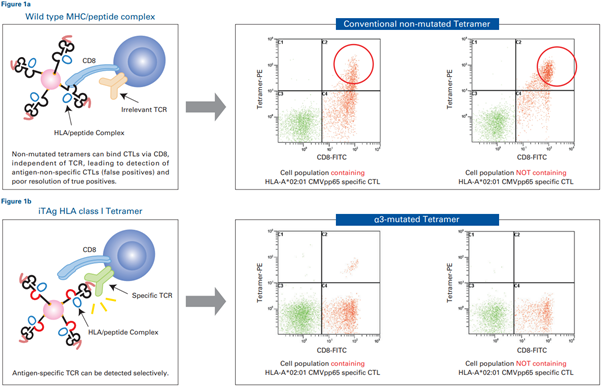 Flow cytometry enumeration of specific T cells is often unreliable and inaccurate due to the low affinity antigen-specific T cells have for their cognate peptide-MHC (pMHC) class I or class II complex. Effectively separating positive and negative cell populations becomes problematic. iTAg™ MHC Tetramers provide 4 pMHCs allowing for greater affinity and detection in low affinity interactions.
Advantages of MHC Tetramers:
The only method to detect antigen-specific CD4+ or CD8+ T cells ex vivo.
Reduced Background for Human and Macaque HLA Class I human alleles due to Patented α3 mutation.
Immune responses are targeted to the specific allele(s).
Tetramer staining is
Does not require the use of radioactive isotopes.
Rapid: allowing fresh blood (or tissue-derived) sample to be analysed.
Large numbers of samples can be processed using flow cytometer.
Tetramer-labelled cells remain viable.
All specific CTLs are detected.
Exceptional Product Breadth: Class I and Class II, over sixty alleles, hundreds of unique targets.
Tetramers can be customized for unique applications.
Excellent Quality: Stringent QC to Ensure Product Performance.
To learn more about MHC Tetramers download the Tetramers Brochure, visit MBL's Learning centre or request the Tetramer Staining Guide.
Custom Tetramers
MBL also provides the possibility of creating your own tetramers for your specific needs. Please, visit this page to find out more.
QuickSwitch™ kits
MBL offers three types of kits:
QuickSwitch™ Custom Tetramer Kits
With this kit, you can create your own custom tetramer. This kit is supplied with a tetramer bound with an irrelevant peptide. After adding a peptide exchange factor and your peptide of interest, peptide exchange will occur if there is binding affinity of the peptide with the MHC molecule. By using the QUANT kit, you can quantify the amount of exchange that occurred, thereby gathering binding affinity information for the MHC/peptide complex. This kit can be used to create custom tetramers, or for screening peptides, all in one day. QuickSwitch™ is a 90-min-assay system that allows discrimination of MHC binding from non-binding peptides.
This is particularly essential for the screening of immunogenic peptides from infectious agents or cancer neoantigens. Tetramers resulting from peptide exchange with selected peptides can then be used for immune monitoring. Functional screening of peptides for MHC class I binding is essential for vaccine design and immune monitoring.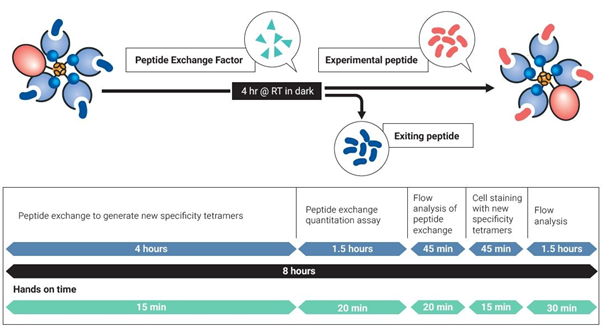 QuickSwitch™ Peptide Screening Kit
QuickSwitch™ Peptide Screening Kit is a fresh, new technology that allows for analysis of many peptides in an easy and ready to use high throughput format. There is no need for optimizing prior to use. One 96 well plate allows for accurate peptide-MHC binding affinity results that can be gathered in one day.
High throughput MHC monomer, peptide screening in a 96 well plate assay.
Evaluate immune potentiators/vaccine efficacy or disease progression.
Neo-epitope screening for further downstream T cell recognition and activation assays.
Determine peptide affinity for specific MHC Class I alleles.
Target discovery of new peptides for immunotherapy and drug discovery.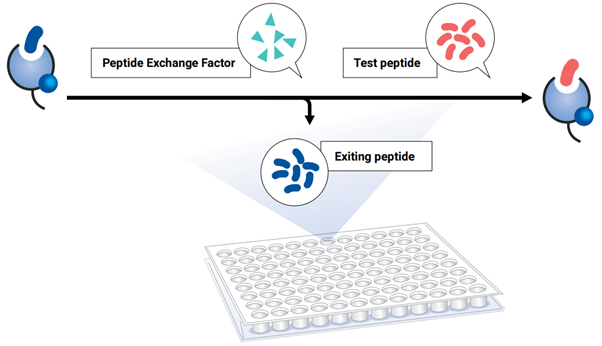 To see the assay protocol, please click here.
QuickSwitch™ MHC Class I Peptide Screening Kit
| | |
| --- | --- |
| Code Number | Product name |
| TB-7300-KM | QuickSwitch™ Quant HLA-A*02:01 Monomer |
To view the QuickSwitch™ Peptide Screening Assay Protocol, please, click here.
And to view all the range of QuickSwitch™ Kits available, please, click here.
QuickSwitch™ Bundles
MBLI has researched and tested SARS-CoV-2 peptide sequences of interest to assess peptide-MHC binding using QuickSwitch™ kits. These peptides are bundled with their respective QuickSwitch ™ allele. By purchasing a bundle, you can create up to 8 custom tetramers in 1 day- saving you significant time and money. Because they already tested the peptide/MHC binding, you don't have to do any preliminary testing and you can quickly jump into T cell staining assays with your new custom tetramers specific for SARS-CoV-2.
View all the range of QuickSwitch™ Bundles available here.
If you require any further information regarding tetramers, the custom tetramer ordering process or if you are having difficulty downloading product data, please do not hesitate to contact one of our tech support team members at techsupport@caltagmedsystems.co.uk or phone 01280 827460.