Caspase Activity: Essential for Apoptosis
Caspase belongs to the cysteine aspartic acid-specific protease family, which gets activated by various signals such as death receptor ligation, DNA damage, serum starvation, and stresses. Active caspase identifies multiple molecules as substrates and cleaves them, leading to biological events associated with apoptosis. For instance, caspase-3 indirectly activates CAD (caspase-activated deoxyribonuclease) while inactivating ICAD (inhibitor of caspase-activated deoxyribonuclease), which contributes to chromatin fragmentation in nucleosome units. Caspase also recognises several structural proteins as substrates, leading to cleavage that is associated with distinct morphological changes in apoptotic cells, including chromatin condensation, nucleus fragmentation, and cytoplasmic integrity. The detection of caspase activity is crucial for apoptosis research.
MBLI 's APOPCYTO Caspase-3,8,9 Colorimetric Assay Kit detects caspase activity in cell extract with LEHD-pNA as a substrate, in which LEHD sequence is recognised by each active caspase selectively. APOPCYTO Caspase-3,8,9 Colorimetric Assay Kits are composed of reagents necessary for the detection, which includes Cell Lysis buffer, Reaction buffer and so on.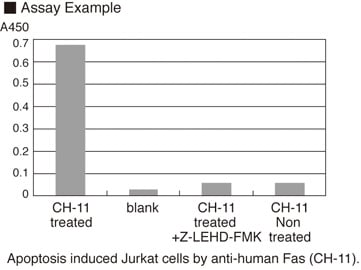 | | |
| --- | --- |
| Product Code | Product Name |
| 4810 | APOPCYTO Caspase-9 Colorimetric Assay Kit |
| 4805 | APOPCYTO Caspase-8 Colorimetric Assay Kit |
| 4800 | APOPCYTO Caspase-3 Colorimetric Assay Kit |
| 4700 | MEBCYTO Apoptosis Kit (Annexin V-FITC Kit) |
| 4800-520 | Caspase inhibitor Z-VAD-FMK |
REFERENCES:
Iguchi M et al. Costimulation of Murine Osteoblasts with Interferon-γγ and Tumor Necrosis Factor-α Induces Apoptosis through Downregulation of Bcl-2 and Release of Cytochrome c from Mitochondria. Mediators Inflamm. 2018,
---
Information provided by MBL.
Caltag Medsystems is the distributor of MBL products in the UK and Ireland. If you have any questions about these products, please contact us.
Caspase Activity: Essential for Apoptosis