AdipoGen Life Sciences' SARS-CoV-2 Inhibitor Screening Set (Prod. No. AG-44B-0007) has been developed as a High Throughput Screening (HTS) detection assay for the determination of SARS-CoV-2 blocking reagents.
The SARS-CoV-2 Inhibitor Screening Set contains key reagents required to facilitate identification of SARS-CoV-2 inhibitors. This inhibitor screen is based on a colorimetric ELISA kit, which measures the binding of the RBD of the Spike S protein from SARS-CoV-2 to its human receptor ACE2. This assay allows to identify and characterize the effect of different inhibitory molecules including antibodies or chemicals on the prevention of binding of SARS-CoV-2 virus to any ACE2-expressing cells.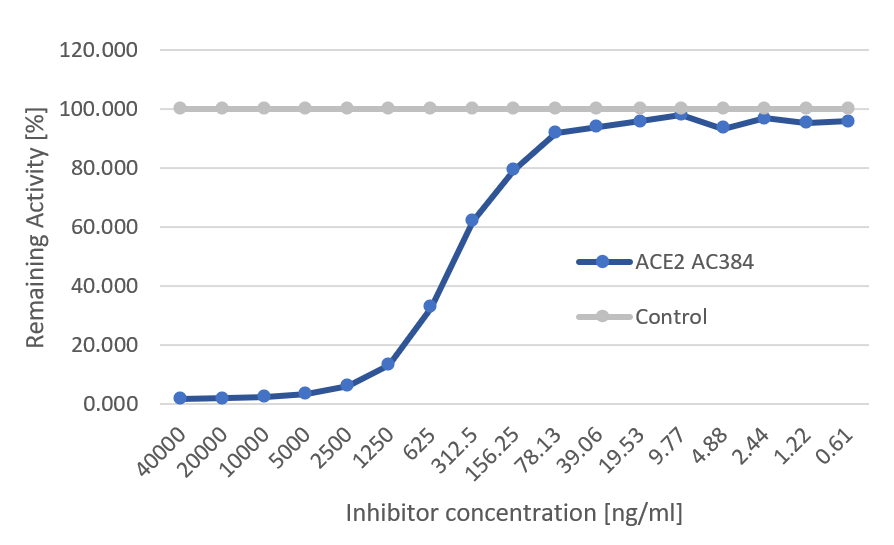 Figure: Binding of human ACE2 to the Spike protein of SARS-CoV-2 is inhibited by the antibody anti-ACE2 (human), mAb (blocking) (AC384) (preservative free) (AG-20A-0037PF).
New SARS-CoV-2 Inhibitor Screening Set